Ikea - A Perfect Case Study for AP Econ Students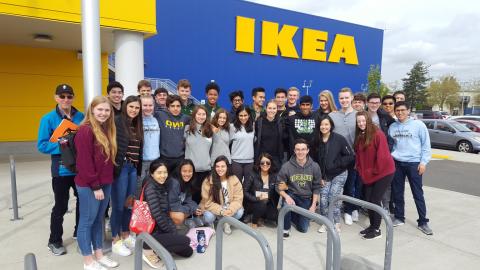 A trip to the blue and yellow warehouse might sound a bit off course for a school field trip, until you realize that these students are embarking on a real-life study of economics in action.
"In a course that is highly theoretical it is nice to have a real-world application," says Dave Parsons, who along with fellow AP Economics faculty, Nidhi McVicar, escorted the two AP Econ classes to the Renton Ikea.
This field trip is the culmination of a year-long case study created by McVicar in order to showcase a company that has so many relevant concepts of economics. "They've really created their own category of retail culture, as they were the first."  
McVicar is referring to the flat pack boxes iconic to Ikea that require the consumer to put together the furniture at home. She's also talking about how Ikea has prioritized operational efficiency and created a unique shopping experience. All of this has disrupted the furniture industry. And the students are getting it.
"Having this model where you basically serve yourself and go to the warehouse and build the furniture yourself, I guess that really changed the way furniture stores operate now," says Rolf E. ('19). "Even though they are mass producing all this stuff they are able to make decent quality and I think that's also just changed the culture around buying furniture."
The two classes read several papers on Ikea's business model but taking that learning beyond the classroom is where the aha moments happen. "To be able to take what is a pretty regular experience in life and look at it through a different lens; to peel off the regular layers that the regular consumer wouldn't see and see it more from a producers' perspective," explains McVicar is the goal for the outing.
"We did read a couple of case studies about Ikea and how they operated as a corporation for such a long time and how they have a unique culture," says Rolf. "I guess that really spoke to me more loudly after seeing all the products here and the employees and I can see how families come here almost as an outing; an experience."
McVicar led the students through a scavenger hunt which allowed them to have more hands-on experience with concepts like economies of scale. "When large producers mass produce items the production costs go way down, and Ikea is a great example of that, as you can get a pillow for $2.99," says McVicar.
"We got to experience all the different things that Ikea has to offer after reading about them in class and then really getting to experience each room," explains Evan D. ('19) "It forced us to really look at the small details that we may not necessarily notice," adds Rolf.
Small details like how some Ikea items might work well in a college dorm next year. With two classes full of seniors, the trip to Ikea also planted other seeds. "Those little ottomans where you can sit on them but also store stuff in, that's going to be very useful in a cramped dorm," says Evan.
Conversation will continue back in the classroom after the field trip exploring concepts such as sustainability. "Ikea is one of the largest consumers of wood in the world and we'll talk about the messages they send to the public about how green their business is and the work they're doing in that space," says McVicar. "And we'll also explore the idea that if something is inexpensive that in theory it's disposable, so asking for them to look for that in the store with that in mind."