Author Mitali Perkins is Back in the Classroom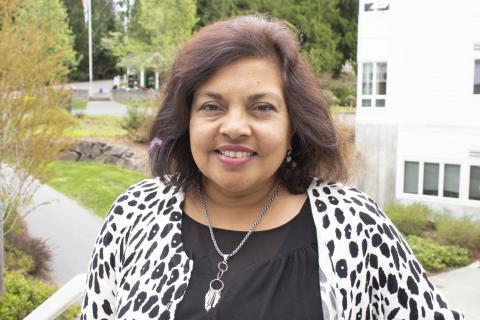 You don't have to be an author to be a great writer. 
That's the message that this year's MS Writers' Symposium guest Metali Perkins told Overlake students. She spent Monday and Tuesday at Overlake, and unlike most author events she's booked, Perkins was able to spend time in the classroom with 5th and 6th graders. "I really enjoy traveling to schools because these are the readers of my stories," says Perkins. "As a former teacher, I'm excited to be in the classroom and not worry about grading!"
Perkins is the author of 12-books with her latest release, Forward Me Back to You just hitting bookstore shelves. Overlake 6th graders were assigned her bestselling book Bamboo People ahead of her visit, and she was impressed with the students' knowledge of all her books. "It's really nice to get so many questions from the readers about my people, places, and plot," explains Perkins. "I'm especially attached to the people in my stories, and I could tell the students were too."
Perkins led several workshops with Overlake 5th and 6th graders, and that's where students received lots of great tips. Her goal was to have the young authors connect with their writing by sharing personal experiences. Perkins family moved from India and her stories have many personal reflections. "Even as fiction, good stories can shape our world," says Perkins. "I encourage kids who have the calling to write to give it a shot. It really worked out for me so that I'm able to make a living out of it and hopefully make this planet a better place to live."
We agree and are looking forward to sharing some of our students' work in the future.