Our Town Pushes the Boundaries of Overlake's Stage and Actors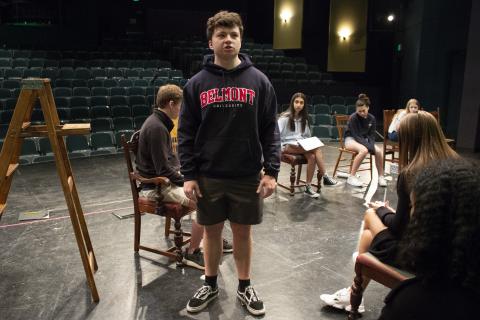 We're a month away from an incredibly intimate play like no other in Overlake's rich theatrical history.
Bill Johns' Advanced Drama students are deep in rehearsals for April's performance of Thornton Wilder's Our Town. This production is unique because the entire audience will be on stage with the actors in an arena style of theater. "Our actors have never performed this way so it will force them to act to an audience that surrounds them," says Johns who is directing the play along with two students Alyssa J. ('20) and Sam K. ('19). "By the time we put 120-audience chairs on stage it becomes a very small space."
For the students, it presents several challenges. Most importantly, the actors' movements are crucial for an audience that surrounds the stage. Another challenge is that Johns double cast the production so each student plays an entirely different character in another show. Also, each student has to learn twice as many lines. Annabelle P. ('20) plays the Stage Manager who acts as a tour guide by introducing us to other characters. Her role includes monologues that last for several minutes. "Yes, it's a huge line load for me because of the double casting, but it allows me to work with Sam who plays the same role," says Annabelle. "It's important to have that contact with the audience, and Bill stresses that they need to feel as if they're having a conversation with my character." 
Our Town is designed to be a simple play that doesn't rely on props and scenery. For that reason, many of the actors mime their actions, like mowing grass and cooking. Johns hopes that the audience will pay attention as they'll enhance the actions with some sound effects. "It's a play for the mind, and Wilder wants to convey that many times we're so self-centered or focused on meaningless things that we miss the beauty in the things around us," adds Johns. "If you can get the audience to see that beauty by the end of the show and think, 'Wow, if Grovers Corners has this beauty than what kind of beauty does Seattle have?' That says a lot for what we're missing in life." 
As for seating, it's general admission, and the best seats will be on the Our Town stage along with the actors. That means coming early to get the best seats in the house.  Four shows are on the schedule with performances beginning on Thursday, April 25 and running through Saturday, April 27.
Click here to get a behind the scenes look of our Advanced Drama students in the middle of rehearsals this week.