Overlake Summer Program Celebrates Fifth Year of Learning and Fun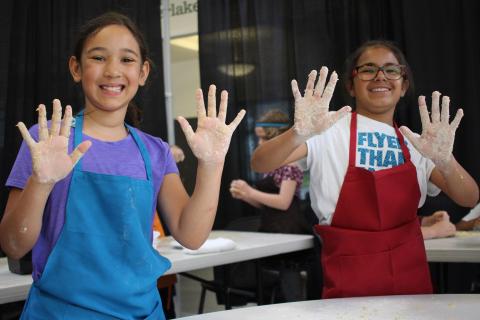 The Polar Vortex might be sweeping through the Midwest, but at Overlake, February 1 marks the start to a different season: Summer!
Over the past four years, Overlake's Summer Program has grown, opening the campus to younger students and providing a more diverse range of camps. At the same time, the camps remain grounded in the program's philosophy, which is to provide interdisciplinary, project-based experiences in a fun and relaxed environment. "The quality of instruction is the distinguishing characteristic of our program," explains Nate Edmunds, Overlake's Summer Program Director. "Overlake teachers are the best around, and they are the heart of the program. They create robust and engaging learning experiences with a summer flair. I also think that our counselors and interns make a significant impact on the camp culture. They care deeply about each camper, and they cultivate an inclusive summer community."
One familiar face to Overlake campers is making a return again this summer but will be working in a different capacity. Jennifer Pan, an Overlake 6th grade science teacher, has been creating memorable summer camps since the program's inception. Pan will now assist Edmunds as the Summer Program Assistant Director. "Having taught in the Summer Program since its very first year, I hope to be a familiar face for teachers and returning campers," says Pan. "I hope to support, advocate, and better understand the needs of teachers who teach during the summer. I am also excited to take on an administrative role to get a full understanding of the intricacies of the program."
What's special with an Overlake Summer is the cozy, comfortable vibe that develops between the faculty and the campers. "Campers will have access to some of Overlake's great faculty as well as beautiful facilities," says Pan. "Due to the nature of the camps, I often find myself not wanting to see the kids leave after their one-week session because in such a short period of time we've learned and enjoyed each other's company. I've had many campers who don't attend Overlake during the school year email or even write letters after the summer has ended, including a student who lives in China!"
What can students expect in 2019? For rising 5th-8th graders, Overlake returns many of its staples, including Debate, Mission in the Kitchen, Engineer Design Challenge, and Science meets Science Fiction. In addition, there are several Overlake faculty members offering new camps, including Art on Fire, Mock Trial, Showcase Cabaret, and Board Games & Human Civilization. "What I'm most excited about," explains Edmunds, "is the variety that we offer, which is a testament to the diverse skill sets and passions that exist within our teaching community."
Overlake is also excited to expand the camps for rising 3rd and 4th graders, which were incredibly popular in 2018. "We have a dynamic group of teachers who have created more opportunities for the younger cohort," continues Edmunds. "This year we have additional camps that extend into a wider range of disciplines."
Registration opens today, with special discounts available for early registration. Visit our website here for more information.