Are You A Helper or an Observer?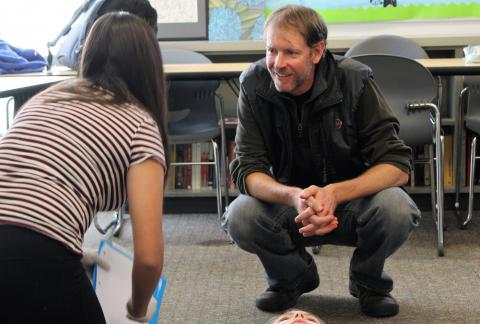 All of us will have a situation in life when we are thrust into an emergency. Ask yourself, "Am I the person who is going to passively observe or am I the person who is going to help?"
If you're the latter, Overlake's Outdoor Education Department offers a March wilderness first aid certification class in partnership with The National Outdoor Leadership School (NOLS). The weekend class will be taught by experts from a variety of fields including Alaskan tour guides and explorers who have trekked Mount Everest. "This program is the way I think all first aid classes should be taught," says Outdoor Education Director Kent Renno. "There's some classroom instruction, but the best training will be handled hands-on in a variety of scenarios and elements including dirt, snow, and rain. Using moulage (makeup and fake blood) makes the training very real."
Because the class is limited to 30-participants, each student gets a lot of individual training from the instructors so that after the class, participants should be able to jump into emergency situations and provide first aid. Renno adds that there's even a more important lesson in the certification, "I've been in emergencies where people just sit back and wait for others to jump in. This class gives you the confidence and ability to stand up and act."
NOLS wilderness first aid certification is good for two years and is required of all Overlake faculty and staff who lead outdoor trips and foreign travel. Upper School students and their families are invited to participate.
Renno says that the class also helps with risk prevention so that Overlakers know what can go wrong and the consequences of poor decisions. He knows that no matter the preparation that accidents can happen. "There's risk in almost everything we do," says Renno. "The biggest problem in emergency situations is the lack of people who are willing to help. Having as many people as possible with a higher level of first aid training is beneficial to everyone."
Click here to learn more about the March 9 and 10 NOLS Wilderness Certification Class.