Now is the Time. What's Your Movement?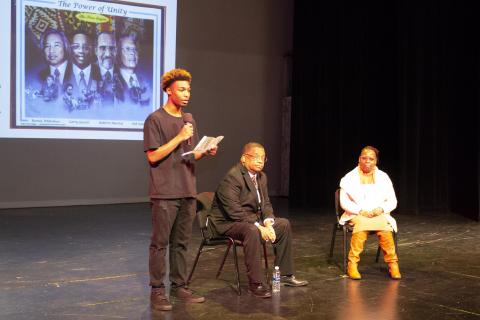 What's your movement? That was the question asked of Overlake students on Wednesday as nearly a dozen speakers visited campus with presentations on various ways to create and motivate change. It was all part of Impact Club's 2019 MLK Assembly. "This year IMPACT wanted to honor the legacy of Dr. King by recognizing people in the local community who are engaged in the work of civil rights and equity," says Director of Diversity, Mahtab Mahmoodzadeh. "Recognizing that Dr. King was a change agent, an activist whose work was local and national, they wanted to honor those who are doing work in their communities on a variety of issues."
The morning started with Upper School students meeting in Fulton to hear powerful words from past change makers, such as Malcom X and Martin Luther King Jr., delivered by fellow students. They then broke into 10 separate workshops facilitated by experts in the field of social justice. 
Below is a snapshot of some of the workshops:
"How to get your voice heard on issues that matter" with Aurelia Williams
In a packed Humanities classroom, Williams handed out a checklist of sorts to get the students thinking about how to use their skills and talents to affect change. She told the students that the difference between them and an activist is 20 seconds of bravery. Williams went on to explain all the times she needed to pull on her bravery to overcome challenges, such as being jailed after an anti-KKK protest. 
Williams is a student herself, studying at Loyola University as well as working on numerous political campaigns including most recently the campaign for Stacey Abrams for Governor of Georgia. Her youthful energy resonated with the students.
She spoke of a social contract and living in harmony saying "it's your job to do something when you see that we're not in harmony."
"Your voice matters" with Erin Jones
Both Middle and Upper School students interested in Jones' message met in Discovery Hall for their workshop. Jones may be a familiar name to some as she ran a close race in 2016 for Washington State Superintendent of Education, losing by a mere 1% of the vote. She was the first black woman to run for any Washington state office.
Jones spoke to the students about finding their "thing." For her it was public education. And she spoke about the need to be willing to sacrifice for that "thing." "You have to be willing to make a major sacrifice for it because if you're not willing to lay something down for it, then it's not a dream, it's a hope."
Jones went on to say to the students, "you all can change what's happening right now. We've done a mess of it. It's time now for you to stand up and say this is the America we want and to be about it."
"Widening the circle: issues of LGBTQ+ equity and inclusion" with Karen Zaidberg & Kevin McKenna
Two Overlake faculty members joined the rest of the guest speakers to facilitate a workshop designed to educate students on issues facing the LGTBQ+ community. 
For new 6th grade social studies teacher, Karen Zaidberg, being able to talk about issues that don't normally get discussed in the classroom was an opportunity she didn't want to pass up. 
"To have an opportunity to talk about issues of identity and community and working together with kids of this age just really helps them to give them a feeling of 'yeah, I can do something with all of this energy I have. I can build a bridge. I can extend a hand. I can have a conversation with someone to hopefully begin to fix some of the problems I am seeing.'"
Zaidberg's workshop was focused on Middle School students, while McKenna's was held for Upper Schoolers. Zaidberg spent time on vocabulary and discussing the various categories when talking about sex, gender, and sexual orientation. "For 6th graders, it's how does the 'me' fit into the 'us' and who are 'we' and how do we occupy that space."
"Deconstruction of the master plan; boycott vs. protest" with Rashad Norris
Another hands-on workshop presented to the students focused on how to turn a moment into a movement. Rashad Norris is an educator at Highline College. He spends much of his time traveling the state speaking to students about the importance of education.
Norris wanted Overlake students to find an "ism" that they felt strongly about, turning it into an action plan to affect change. So the students broke into smaller groups of 4 or 5 members and they tackled issues like plastics in the environment, child labor, the partial government shutdown, to name a few.
"Having this tangible activity lets them put out there information that is troubling to them and to do it as a group to educate others." Norris went on to say that allowing the students to practice using their voice on important topics can only benefit all. "Having them see how powerful their voices are when we talk about movements in our society. Their voice matters."
"Revelations of history! Now is the time" with Patricia Bell and Larry Gossett
To best way to make change is to understand and learn from the past. That's the message that King County Councilmember Larry Gossett wanted to get across to his audience. Gossett successfully campaigned seven years to change the name of the county to King County to honor Dr. King. "Students at private schools like Overlake are more often freer to think critically about things, and most of these kids here today, without a doubt, are going to be leaders in the community," says Gossett who has been at the forefront of the civil rights movement in Seattle. "In 1968, Dr. King was promoting a plan to build one million low income housing in the United States. Can you imagine if our leaders had done that we wouldn't have the housing crisis we have today? I'm trying to get these kids to think things like that." 
Gossett's longtime friend and University of Washington classmate Patricia Bell has spent her lifetime as a social advocate who continues her work today for the City of Seattle. As an Overlake Grandmother, she had an important message to the students. "We are all here together, and, together, we can all make a difference," Bell told the audience. "Change starts with you. Check your bias, do the research, and when you do that, we can all come together." 
She submitted a challenge to Overlakers to perform one daily act that provides the opportunity to be inclusive and accepting of others. Bell says that's the mission the Dr. King wanted us to continue as Americans which has as much relevance today as it did fifty years ago.
"M.M.I.W-The spirit of resiliency" with Chelsea Hendrickson
As a young activist seeking change in the policies that neglect missing and murdered indigenous women, Chelsea Hendrickson's work comes from first hand experience. Raised in South Seattle, she escaped a life of abuse through advocacy. "I remember being a student and having presenters come to my school, and it would light a spark in me and keep me from giving up when I was thinking about suicide," says Hendrickson. "It gave me hope and opened my eyes to think critically. For me, it's not only an honor to come here to speak but allows me to come full circle."
Hendrickson's emotional story riveted the students and faculty who learned about the boarding schools, physical and sexual abuse, and ultimately murders of indigenous women. Many in the workshop were brought to tears after viewing videos and hearing stories about the injustices towards young women who have disappeared with little to no investigation from authorities. "For us, it's a healing movement. Indian country wants truth and justice first," says Hendrickson. "We're seeing positive things happen with the elections of Deb Haaland and Sharice Davids to Congress, and bills like Savanna's Act (a bill aimed to protect Native American women from high rates of violence) have a new generation of Native women rising up."
Even when the workshop concluded, several students stayed behind to learn more about the movement and how they can make a difference.
Click here for a photo gallery of this year's program, and click here for the presentation by King County Councilmember Larry Gossett and social advocate Patricia Bell.