Overlake Delegation Report from PoCC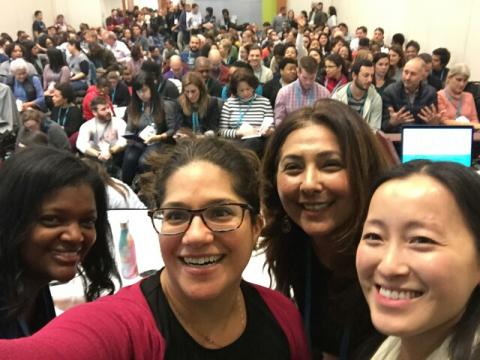 Six Overlake students along with two faculty members and Director of Diversity and Inclusion, Mahtab Mahmoodzadeh have just returned from this year's NAIS People of Color Conference and Student Diversity Leadership Conference in Nashville, Tennessee.
The conference is an opportunity for the nation's independent schools to discover, learn, and discuss efforts to support equity and justice within a safe space for leadership, professional development, and networking for people of color and allies of all backgrounds. "Educators want to have conversations on diversity, equity, and inclusion which communicates a definite need and urgency," says Mahmoodzadeh. "There are many topics at the conference that are constant and others that evolve. What's constant is the gathering of educators of color in affinity spaces to come together which they don't have as part of their daily experience at their institutions. That fellowship is integral to the feeding of the spirit. The evolution comes in the equity and inclusion work."
This year's workshops explored the theme of harmony and discord with a plan to improve and enhance the interracial, interethnic, and intercultural climate in their schools. 
Students participating in the Student Diversity Leadership Conference took part in a number of activities with peer facilitators in both large groups and small "family groups" where there was robust dialogue. "We talked about a variety of issues that impact sexual orientation, race, and socio-economic status," says Farah L. ('21). "At the beginning of the conference, it's focused on learning more about yourself. For me that's learning about some identifiers that I wasn't aware with race and gender. I liked how it was tied together for me and making that connection is what I bring back to the community." 
That self-discovery isn't limited to students. First year Overlake teacher Paulo Agostinho says the voices and experiences he heard at the conference will impact his instruction. "There are things I can put in the lesson that will get students to question and think," says Agostinho who teaches several history classes. "More importantly, I want them to share different viewpoints so when we discuss issues like nationalism and patriotism they can engage with their classmates. That dialogue will be good."
For students like Farah, the growth goes beyond the classroom. She plans to lead sessions in social justice within clubs and activities. For students like Senior John B., SDLC prepares him for that work post-Overlake as an adult. "A lot of times, students are ahead of the parents and administration when it comes to diversity," says John. "They're well intentioned to limit change so it's not uncomfortable for us, but, if you think about it, there are a lot more people who are hurt by a lack of change."
This year's conference was the largest ever with 64-hundred educators, administrators, and students in attendance. Next year, Seattle hosts the NAIS People of Color Conference, and Mahmoodzadeh is instrumental in its planning. She hopes to register as many Overlakers as possible with the hope that it will ignite our mission and values. "Independent schools have a unique ability to play a role because we're small, nimble, and we have resources. Parents who choose to put their kids in schools like Overlake do so because they have hopes and aspirations for their children. We think if we're nice enough that's what treats injustice. To be able to stand the heat and be intentional with one another and still hold each other in community is where there's growth."
Click here to learn more about this year's conference.