Actors Prepare for The Addams Family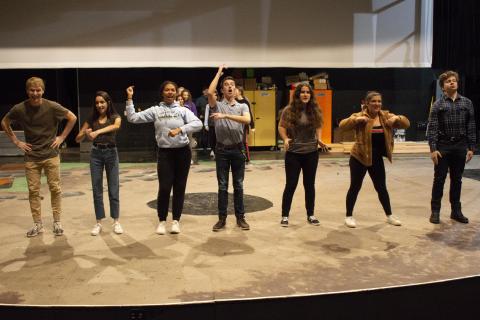 With just over a month before the curtain rises, the students in Sarah Fitzpatrick's Advanced Musical class are hard at work preparing for January's The Addams Family performance.
Subtract Winter Break, and the cast realizes that every rehearsal is essential. "Those two weeks during Winter Break are make or break," says Alyssa J. ('20) who is dance coordinator and part of the ensemble cast. "If everyone uses that time to practice on their own the show is going to be so much stronger. Everyone in the class is so talented and Sarah and Erin are so supportive. We all want it to be successful."
Alyssa works with the actors on the various dance scenes and says she spends hours at home coming up with ideas using candy M&M as the characters. She places the candies on a table to simulate the actors on the stage. "There are whole numbers where I get to decide what the dance is going to look like, and it's so cool to see how those M&M's I laid out the night before are coming to life on stage in the characters' choreography," says Alyssa. 
With stagecraft students making the set, The Addams Family cast are working on blocking, script memorization, and the music. "We're really trying to embrace the cartoonish attitude of the show and movie but working to find the softer moments where the human elements come through," says Sam K. ('19) who plays Gomez. "It's a show about family told through monsters, but we're trying to find those softer moments where their humanity comes out." Sam adds that cast and crew have really bonded through the rehearsal process and feels that it's going to show in their performance. 
As Advanced Musical Theater students, The Addams Family production is the perfect selection. First as a cartoon, then a popular 60s television show and finally a successful 90s film, Overlake's version of The Addams Family is distinctly ours. "Because they're such well known characters, we worked hard to find ways to make them our own," says Sam. "We have such a special group of ensemble members who have been in the theater program a real long time so Sarah encourages us to do what we want with a scene, and we'll fine tune it later." 
Alyssa agrees and says that there is so much more to The Addams Family than laughs and schtick. "That's the cool thing about musical theater. You make things that aren't real so real for the audience. Yes, there are lots of things that are funny, but the audience is going to find truth in the many stories within it," says Alyssa. "Songs help motivate the story and the dance moves it along."
Click here for a look inside one of our rehearsals. In the coming weeks we'll share more stories about The Addams Family, and mark your calendars now for one of our three shows on January 18th and 19th.