Robotics Competition Comes to Overlake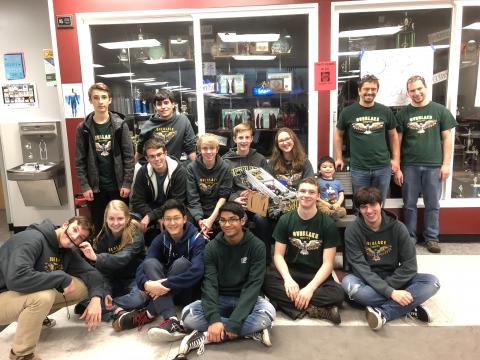 If you're looking for a unique opportunity to cheer on Overlake in a combination of sports and technology, then come to the gym on Sunday. 
Overlake's Upper School Robotics team hosts the First Washington Robotics Tech Challenge on Sunday afternoon.  
It's the second competition for Overlake's Robotics team, and while the results weren't great for the team's first use of the robot, the team is working hard to improve. "Some rules got changed so we've spent most of our time rebuilding," says Teddy L. ('21) who is one of the team's robot builders. "The coders worked really hard to make the changes for us, and we've had a little over a week to get ready."
The game is played with a robot that is controlled by team drivers. The object of the game is to attain a higher score through different tasks. Four teams competing as two alliances try to complete the most tasks. The robot in this weekend's competition is a lander. "It's not just how the robot moves around," says Anna L. ('20) who started as a coder but has since moved to building. "It's also about getting as many things into the lander as possible so it gets pretty chaotic."
Coaches Brian Husted and David Basham will work with three drivers to navigate the course which is a 12 foot x 12 foot field with walls and a soft foam floor mat. While it's an all day event for the robotics team, Husted says the best time for spectators will be during the afternoon when the landers go head-to-head. 
Click here for details about Sunday's event, and good luck Owls Robotics!