Taproot Theatre Presents The Social Networth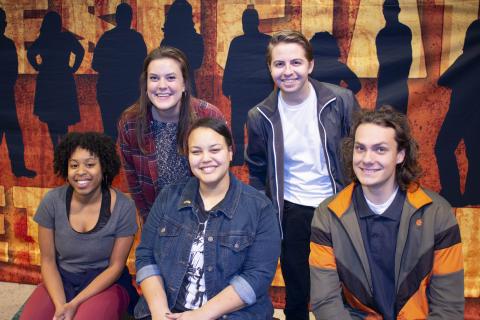 Equipping students with the skills needed to stand up to bullying and harassment, Seattle's Taproot Theatre Road Company brought the situation to life Monday morning on the Fulton stage.
The Social Networth aims to prevent cyberbullying, understand the consequences of harassment, teach personal and social responsibility, and present positive body images. "Kids in middle and high school are among the toughest audiences to reach," says Taproot actor Gabriel Adams. "Kids are just learning about their feelings and most don't want to talk about them. Having them face these issues in this format helps them to make a connection and think differently."
The play centers on a group of students starting a Body Positivity Club. Jason, a class clown who has been dismissed from the club, joins his friend Cody in remixing the club founder's vlog into an embarrassing body-shaming montage. Adams plays Cody who attempts to make a name for himself by creating the prank. "We encourage the audience to laugh and cry, but be respectful. What could be funny and hilarious to one student can open some deep insecurities for another," says Adams.
Overlake's Student Support Office brought the Taproot's traveling theatre here to present The Social Networth because of its impact with students. "The element of story is the best teaching tool for some of these topics," says Student Support Director Susan Essex. "It's very engaging for the kids and allows them to reflect on their own experiences through the various characters. You don't get that with a speaker."
The audience was made up of Overlake 6th, 7th, and 8th graders. Essex says that the kids can relate to the situations in the play and shows how we can grow from every perspective. "These things happen because kids make wrong choices. It doesn't always make us a good or bad person, but it's all part of us being human," says Essex. She adds, "The story is among friends and how there are dynamics that make us do things that hurt other people, and we're not bad people because we may do it." Overlake's Student Support is working with homeroom teachers to continue the discussion about the topic in this week's homerooms.
Adams and Essex agree that parents' openness to discuss cyberbullying and harassment is difficult, but the conversation is necessary. "Parents should be able to tell their kids that their feelings are valid and being honest about them is not a weakness. It's a strength," says Adams. Essex agrees and says it's important for parents to keep up with their child's friendships. "Parents talking to their kids about things like cyberbullying can be too abstract," says Essex. "Parents can ask, 'Was there anything similar in the play that is going on in your life?' Even if it's not happening to them, it's valid to ask them what they would do in that situation."
Click here for a list of resources to aid in the prevention of bullying, harassment, violence, or suicide.