Students Experience the Work of Federal Courts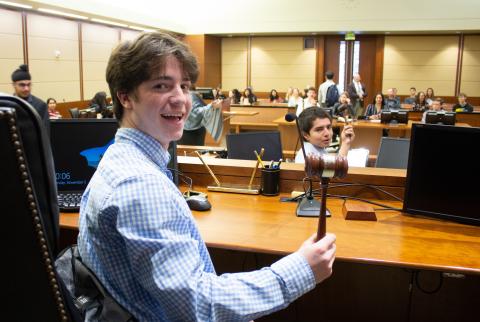 Overlake students took a field trip on Monday, but they also got an important lesson on life.
The entire Junior class spent the day at the U.S. Federal Courthouse in Seattle with an itinerary that included tours, presentations, and even court proceedings. Although court cases are open to the public, it's rare to get an inside look. Students had the opportunity to sit on the judge's bench, jury room, holding cells, and judicial chambers. "By the end of the day I was surprised at all that happens in that building," says Evan L. ('20). "Seeing the emotion inside a courtroom is an experience we were all talking about on the way back to Overlake and even at home that night."
Students broke into three groups with each seeing a different court proceeding. One class witnessed a deportation hearing in which a judge sentenced an individual who had been previously deported several times to a year in prison. Another group sat in on a new arrest calendar, in which suspects just apprehended make their first appearance before a judge. The last group sat in on a disposition hearing for a probation violation. 
"The students study the Constitution, and the trip to the courthouse brings the Constitution to life," says Tina Proctor who organized the tour. "What I love about this trip is that the students see real court cases and that can be quite sobering." Proctor's students sat in a case in which a defendant faced revocation of his probation due to repeated drug use. The violation of his probation terms meant a return to prison. They listened to him share his life story-his challenges and successes. He spoke directly to the students about the value of education. "Hearing this man's story allowed the juniors to see beyond the stereotypes and better understand the humanity of the defendant and the realities of drug addiction," says Proctor. "They also saw how Judge Robart treated the defendant with compassion and respect while still upholding the law." Robart sentenced the man to 90-days in jail and many additional months of court supervision.
The students also saw videos on jury intake and unconscious bias and were joined by Chief Judge Martinez who addressed the students during a court recess. "Our personal feelings as judges have to be put aside, and we have to follow the law," Martinez explained to students. "As a federal judge, I'm ethically forbidden from getting involved with lawmakers, but you're not. You are the ones to make sure that our leaders and politicians do the right thing in the future so that people like me who put these robes on are following good laws that make sense in the long run for every single one of us."
Another highlight for many students was a presentation by two U.S. Marshals who explained how they got to their positions, shared stories of arrests, and displayed some of the tools they use in apprehension of suspects. 
Students returned with a variety of experiences, emotions, and opinions. Whatever differences they may have had, they shared their appreciation to court staff with thank you cards along with an unforgettable experience in our judicial system's transparency and a respect for the professionalism and workload of our judges. 
Click here to see a photo gallery of the field trip.