Congratulations Distinguished Alum Kara Brown ('07)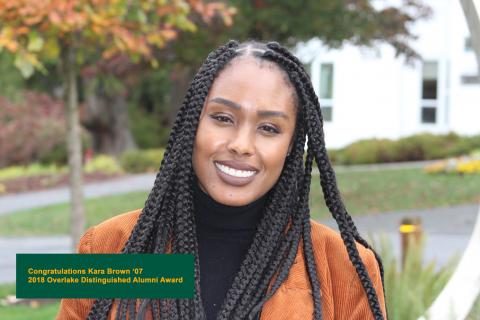 For Kara Brown ('07), Friday's induction as our first-ever Distinguished Alumni Award recipient was likely the second-best part of returning to Overlake. The first was hugging and reminiscing with all her teachers. 
Brown, who is a Los Angeles based writer whose articles have appeared in Glamour, Billboard, and several other national publications, returned to Overlake to not only accept the award, but also to sit in classes, lead a writing workshop, and meet with affinity groups. "My fondest memories were those like other alums," says Brown. "I remember all the bus rides to sporting events, my friends, and being in class with my favorite English teachers, Army, Sarah Gallagher, and Ellen Zarter."
The Distinguished Alumni Award recognizes an individual Overlake alum who has made a notable contribution to humanity with achievements in the arts, science, medicine, literature, business and/or philanthropy, which exemplify the mission and values of The Overlake School. "We do so much here," Director of Alumni Engagement Christian Fulghum '77 told the audience. "One thing we don't do enough here is pausing to affirm a fundamental truth - something good is going on here. All the work you do as students, and all the work you do as faculty and staff keeps this place growing, evolving, and improving. This place makes a difference."
Brown shared her experiences, not only as an Overlaker, but also a Tufts College student and young writer who made the move from New York to Los Angeles. In a writer's workshop she shared her articles which began as blog posts from South Africa to let her family know she was doing fine. In addition to her writing for digital and print media, she's now working as a screen writer for a television comedy. 
The advice she shared was not only for aspiring writers, it was advice that every student could use whether it's a term paper, college application, or school newspaper article. "Pinpoint the angle in what you're writing," Brown told the workshop. "Write in your voice and know from the very beginning what you're wanting to say. Don't worry if it's something you may think seems silly. There are things that you might find funny and may enjoy and those are the things that are you."
Click here for a gallery of Friday's event.
Congratulations Kara Brown and thank you for returning to campus to receive your award and share your experience.