Lacrosse Coaches Lead MS Clinics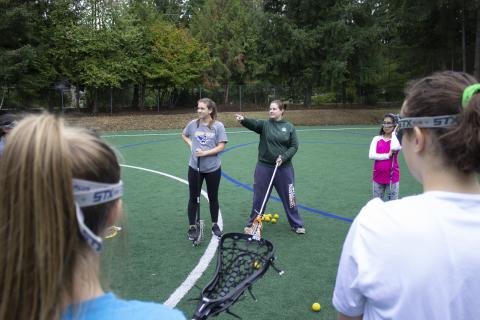 After a one-year hiatus due to low participation, the hope is that the Owls will once again be able to field a Girls' Varsity Lacrosse team this spring. To do so, the athletic department has put a lot of energy and resources into developing younger players for the program.
Even though the team doesn't officially take to the field until early 2019, Middle and Upper School players have been attending Saturday morning clinics. Leading the clinics are two players who most recently competed at the college level. New Girls' Varsity Coach Nicole Rockwell and Assistant Coach Megan Hughes join Overlake from UC-Santa Barbara where their team competed at nationals last year.
Coaching kids brings back memories for the two. "I started playing lacrosse in middle school, and it was a great learning experience for me because you get the introductory period where it's not as competitive and the goal isn't to get into colleges," says Hughes. "It's a lot more fun because you get to hang out with friends and play sports."
Last year's team was forced to cancel the season due to low player turnout. This year, the hope is that many of the girls introduced to the game at these clinics will continue playing competitively as Owls. "We've got kids on the field from every skill level," says Rockwell. "It doesn't matter if they're beginners or All-Americans. You've got to make them work together so it brings up the development of the beginner player. The more experienced player gets better because they can help teach those skills. That's when you know the player has mastered the game."
The first clinic last month drew 19 girls. Many are Middle School students, so the hope is that the program thrives for years. As for varsity preparations, the coaches know that they've got to get the numbers up to field a squad. For them, it's about making the game fun. "I tell the girls, 'If you've got to do something you might as well do something fun that's a team sport and hang out with friends.' Doing that, you can't lose," says Rockwell.
There's still time for interested players to join the action. Clinics begin at 9:30 a.m. Saturday on field four behind the gym. Contact MS Athletic Director Mike Fine if you have any additional questions.