Our Values Within Digital Citizenship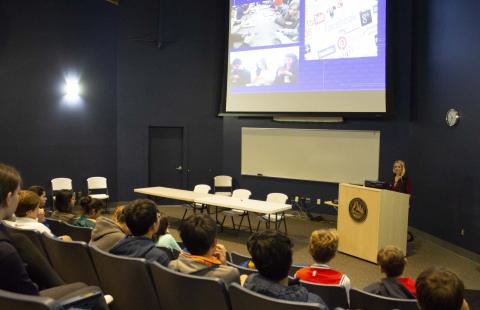 Technology provides us with incredible advances in education and information. Unfortunately, it also has its pitfalls and dangers. 
Wednesday, Stefanie Hanley who works in law enforcement and is an internet safety expert, led a discussion with Overlake 8th graders on digital citizenship and safety. Today's teens face issues in online relationships such as cyber-bullying, social networking, sexting, and online posting. Hanley told students that cyber-bullying is a crime and even a joking threat could lead to prosecution. She says thinking before hitting "send" is crucial because it's impossible to take back.
Shifting to threats to the student, Hanley says teens are targeted because of their willingness to post personal content and engage in live streaming activity.  Her message to parents is simple but says don't delay the conversation. "It's about education and monitoring," says Hanley. "Setting expectations when you give the child the device is so important in starting that conversation. 'This is why we don't post this. You can have these followers and here's why.' Parents are most unaware in that sex-based sharing behavior."
A recent study found that teens spend nine hours a day on their devices. Technology addiction with teens frightens Hanley. "Parents need to minimize screen time and separate them from it. I've been around teenagers where all they are doing is checking, taking, and clearing snapchats. It's so addictive that you have to have forced separation," explains Hanley.
Setting boundaries with technology is at the core of Hanley's talk. It's also a topic of discussion in Friday's advisory. Students had the opportunity to learn more about boundary setting and expectations as it relates to their interactions with fellow students and adults on campus. Click here to see what information was shared in the groups.
On the topic of resources, last summer, Overlake's Student Support and Technology departments provided helpful resources to families. We wanted to share them again. You can also familiarize yourself with our Technology Use Policy here. We are highlighting the following resources to further support healthy digital character development and discussion: