We Beat the Heat! Cheers to a great start to Overlake's Summer Program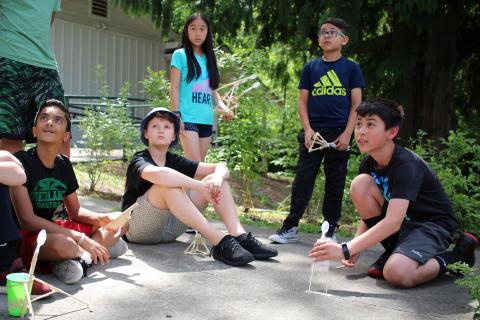 The opening week of Overlake's Summer Program is in the books. In a variety of camps, students honed their basketball and volleyball skills, produced original songs in GarageBand, made quesadillas and omelets, and created catapults, airplanes, and bridges. Overall, it was a great way to launch the summer on our beautiful campus.
To get a deeper sense for the camper experience, we followed along with Galia and Shivam, who participated in multiple camps.
For the morning session, Galia and Shivam pursued their passions. Galia loved working with the Overlake Varsity Volleyball players, who supported as counselors in the Neal Iezzi's volleyball camp. Over in Technology Challenge, Shivam said that while he "innovates a lot," the challenges that Ms. Jones presented were "awesome" because it "let him open [his] mind about this stuff and teach [him] how to do new things." Challenges included cutting a notecard so that they fit through it, building marshmallow-throwing catapults, and constructing a bridge with popsicle sticks that a counselor could stand on.
In the afternoon, Shivam and Galia shifted gears, pursuing topics outside of their comfort zones. Galia wanted to "try something new," so she signed up for Sound Engineering. With Andy Jackson's help, she created her own songs with original background tracks and lyrics. Shivam also wanted to do something different and signed up for Mission in the Kitchen. After a week of making quesadillas, oatmeal raisin cookies, smoothies, and omelets, he believes he can now "cook and survive-ish" and is proud that he knows how to make oatmeal raisin cookies because "what else do you need in life?"