Admission season starts at Overlake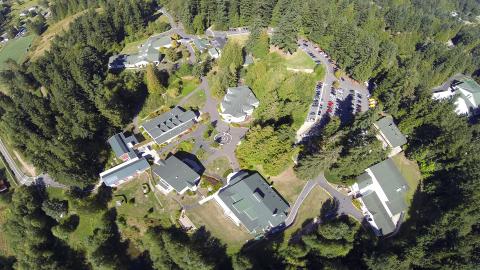 It may not be January first, but for Overlake's Admission department it's the new year. October first marked the start of the 2022-23 school year application process for new families. It's a busy time for the team as they work to put together an informative and welcoming admissions process for prospective students and their families. "We will offer families the opportunity to come on campus to check the school out," explains Lou Sabino, Director of Admission & Financial Aid.
Visiting in person is a departure from the previous admission year, as everything last year was virtual. "We did a lot of virtual events to give prospective families a chance to learn about the school - this worked well, particularly for families who would not otherwise have had the opportunity to come all the way to campus," explains Sabino. And along the way the admission team decided that some of the ways the admission process worked last year would continue this year regardless of the pandemic's influence. "We developed some tools for our virtual interview process that we learned worked really well, and so we have incorporated those into the on-campus interviews this year."
This year all applicants will be required to participate in standardized testing as opportunities to take the SSAT or ISEE have improved this year compared with last year. As for the interview process with applicants, 5th and 6th grade applicants will have the opportunity to do their interview either on campus or virtually.
"COVID has really shown the value of families being able to choose the academic environment that best fits their family's needs," explains Sabino. "As a result, there is a lot of interest in schools like Overlake." While Sabino says the number of choices may feel daunting, he has some words of advice. "There are a number of really wonderful school options available to families in the Seattle area. I would encourage families to look broadly at their options rather than narrowing their focus too early in the process."
To help showcase what an Overlake experience is, the admission team helped create some animated short videos highlighting various Owls and their experiences on campus. You can check them out here.
"Overlake is a wonderfully diverse place and much more accessible financially than many people think," says Sabino. "If parents have concerns about the cost of educating their child at Overlake, contact me directly. I'm happy to talk to them about the value and financial accessibility of the Overlake experience."
This Saturday, the team will host one of several open houses for prospective families. It will be a mix of in-person and virtual events for the families to engage and learn more about Overlake.