Owls Night Out is just around the corner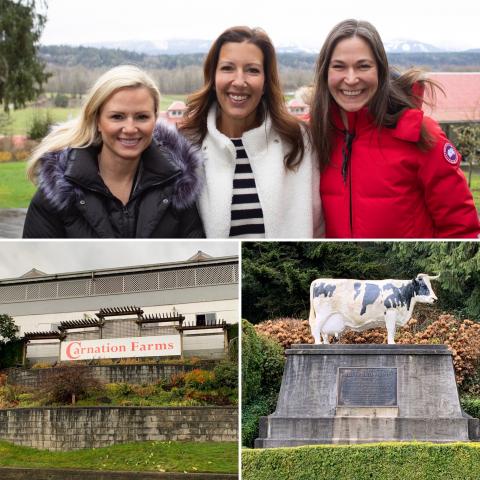 Owls Night Out 2020 is just days away on February 8, and the finishing touches are being made on the party of the year. This year's event takes place at the newly re-opened Carnation Farms' Hippodrome, nestled in the picturesque Snoqualmie Valley.
We caught up with this year's three event co-chairs as they tasted the delicious menu options and did a final walk-through of the space. "Changing the location from Seattle to our backyard in the Eastside was something many families had requested," says Co-Chair Ange Smith. "Carnation Farms brings us back more to Overlake's history and our roots and lets us have a less formal party for everyone to enjoy. Most importantly, it's going to be lots of fun!"
"There are two main purposes for Owls Night Out," added Co-Chair Moya Skillman. "First, it is one of the few times in the year we can bring all our Middle School and Upper School parents together to celebrate, build community, and get to know each other and some of the incredible things Overlake does. Second, it is an opportunity to support the school and all the wonderful students and teachers, such as with our paddle raise for financial aid scholarships, the fun raffle prizes, and the great Community Building Events that will be offered."
"We invite everyone to come as they are," emphasized Director of Development Brisen Brady. "One of the many terrific things about Owls Night Out is that we have parents from every grade coming, so you will be surrounded by friends and don't need to have a date to enjoy the festivities. The more the merrier – plus you can wear your favorite jeans and tennis shoes to the party if you want. We are all really excited for this year's event – we have a great program, music, activities, alum speaker, Mike Davidson is going to be an exceptional emcee, and of course we have the best community of families!"
Adding to the fun factor is that instead of assigned tables there will be a variety of food stations and lots of lounge seating, so guests can mingle and enjoy one another's company throughout the celebration. Overlake's talented student Jazz Band and faculty and staff house band will provide the evening's entertainment, as well as a DJ who is known for getting Overlake families on the dance floor at previous events.
Carnation Farms is also renowned for its sustainability efforts, and it will be no different for Owls Night Out. Expect locally sourced food, guaranteed to be outstanding as the chef hails from Michelin star restaurants in New York City. All the co-chairs agreed each dish they tasted that day was truly delicious.
Every attention to detail has gone into ensuring Owls Night Out is a memorable night out, thanks to our three terrific co-chairs and all the staff and faculty who help put this event together.
"Getting involved in volunteer opportunities at Overlake is a great way to build relationships with other parents. I've really enjoying getting to know the other co-chairs through the Owls Night Out planning process and it really felt like a team that together was better than the sum of its parts. Building those relationships engages us more with the school, enhances the Overlake experience, and strengthens the whole community," shared Co-Chair Sara Womack. We couldn't agree more!
For more information and to RSVP for Owls Night Out, please click here, but do so quickly. The deadline to get tickets is today, January 24. Hope to see you at the party of the year!