Overlake Musicians Prepare for Competition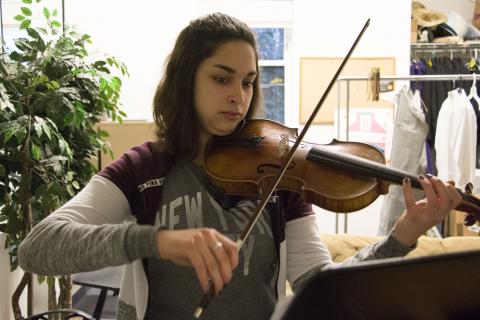 It's tournament time, and while that statement may conjure up thoughts of March Madness basketball, here at Overlake, it's also a time for competition in the Arts.
Several Overlake students are preparing for this weekend's Northlake Region High School Solo and Ensemble Festival at Bothell High School.
Students present their performances before judges in hopes of moving on to state competition. Our region consists of schools from several public school districts including Northshore, Lake Washington, as well as private schools within the same area. Unlike many of the schools participating, Overlake musicians are not required to attend as part of their curriculum requirements. They do it for their love of music.
"It says a lot of our busy students," says Steve Mraz who leads the concert and jazz bands. "They want to be there and win."
Students are rehearsing their solo and ensemble pieces in various spaces in Fulton, and it's up to each student to get what they want from the regional competition. "Some people are competing," says Mark Lotz who has been working with several string entries. "Some are doing it for the learning experience because the adjudicators give good feedback and lessons on musicians' performances."
He adds that he appreciates how Overlake's music student commit to the Arts when the school has so many experience opportunities. "So many people are surprised to learn that someone here can dominate on the athletic field and still play a mean cello," says Lotz.
Click here to see a sample of our musicians in rehearsal. The Northlake Region High School Solo and Ensemble Festival takes place on Saturday from 8:00 am to 5:00 pm.