Boys' Basketball Rides Winning Streak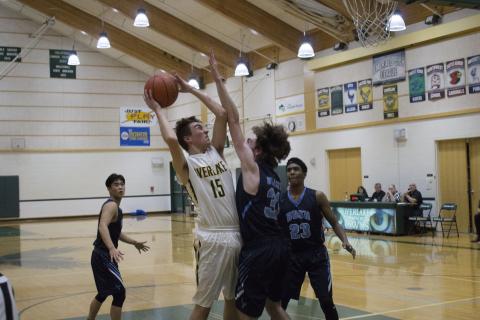 Catching a Boys' Basketball game this year, you sense the energy that the players and coaches are feeling about their success. Riding a six-game winning streak, the team won Tuesday night against a hot shooting Bush team that took an early lead.
The Owls (8-3) responded by amping up their defense and voices. Using a three-quarter press, Overlake forced turnovers and not only came back, but also blew open a huge lead for a 76-57 win. "We're flying all over the court and talking a lot," says Connor T. ('18). "The more we talk, the more it gets into the opponents' heads, but it also lets us know what each one of us on the court is doing. As long as we're communicating and flying around, we're going to get steals and fast break points."
As the season began, Coach Justin Prohn warned that this team was going to surprise people. With a lack a height, the team lacked an identity, and it was up to Prohn to find the right combination of players on the court, but also his team leaders. "I'm challenging them to lead, and we're coming together," says Prohn. "To be honest, they've been surprising me too!"
The team is getting noticed. The latest WIAA ranking has the Owls ranked at #13. Last week, Bryce D. ('18) was named as the state's Player of the Week. He says it's too early to talk about postseason expectations. "Taking it game by game and playing our style no matter the opponent, we'll hopefully get the W," says the senior co-captain.
You don't have to wait long to catch our Owls in action. Join us Thursday evening as the Owls host Meridian Thursday evening. Junior Varsity tipoff is at 5:30 and Varsity takes to the court at 7:00.
Go Owls!