Benefit Concert Preparing for Great Jan 20 Performance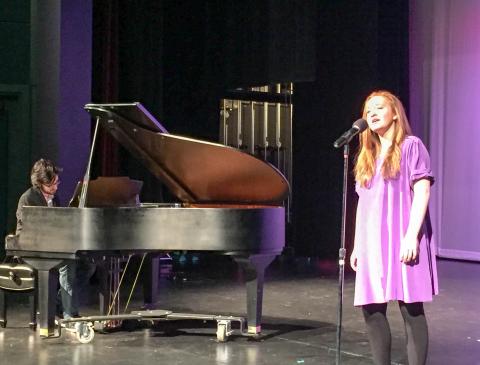 It's crunch time for Overlake's Benefit Concert organizers. With two weeks left before show time, Addie F. ('18) and Faculty Advisor Erin Gabriel are putting the pieces together on an evening filled with student talent highlighting various performances.
A total of 26 acts are on the evening's program, which means a lot of hard work is going on behind the scenes to prepare. "All of these performers are really good," says the Overlake senior who goes on to say, "and there's nothing that brings people together like music, so it's going to be really special."
The event is entirely student run, including running the auditions, setting up the stage, and laying out the performance schedule. "It's a huge task to take on a show like this from start to finish and my role is to really just help support them," explains Gabriel. Besides Addie, Renee A. ('19) and Alyssa J. ('20) are helping organize this year's event.
This year's event is extra-special, as the school celebrates its 50th year. The first Benefit Concert was held in 2001, and was the idea of Nadia Petschek Rawls ('03) who approached Gabriel with the idea of a concert at the Meydenbauer Center in Bellevue that highlighted the many talents of Overlake students. The Fulton Performing Arts Center had not been built yet. "At the time I was like, 'you have no idea what you're getting yourself into', but she pulled off a fantastic benefit," reflects Gabriel. "I'm like, Nadia, you're going places!"
To honor our 50th year, Rawls is coming back to see the event she first started 17 years ago. "She's very excited to come back to Overlake and be a part of this again," says Gabriel.
This year's concert benefits Homeward Pet Adoption Center in Woodinville. Addie's family was matched with a dog from the organization several years ago, and her classmates agree that it's a worthy cause. The group also plans on having several of their pets joining the show.
You can catch all the young talent beginning at 7:00pm.