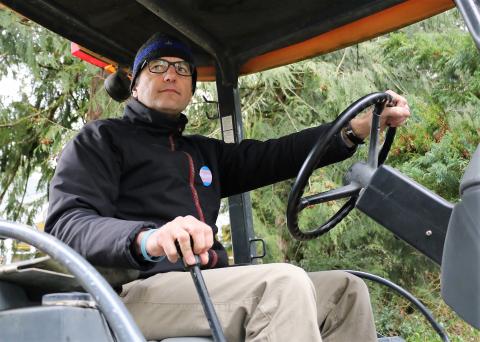 Dear Overlake Community,
This weekend brings several special 50th anniversary events, and I'm hoping you'll join us for as many of them as possible. We'll kick off our celebration with a Saturday morning run, Flight of the Owls. Join us on the lower soccer field at 8:30 am (registration), and the owls will embark on the 5K course at 9 am. Owls of all running experience are welcome, along with walkers. There's also a field-length run for kids around 10 am. After the run, we'll enjoy refreshments while talking about the challenge of running hills. I will be running and am anticipating being smoked by any number of runners!
Later on Saturday, we'll continue the festivities with a program in Fulton at 4 pm, where two alumnae, Kate Berry '08 and Kim Poplawski '79, will talk about how their Overlake experiences have shaped their lives. Kim also has a unique perspective on the school, because her father, Dean Palmer, led the school from 1970-1984. Additionally, Holly Harris '18, our Associated Student Body president, will talk about her current Overlake experience. I'll conclude this part of the program with a short talk, "What We Did for the First 50 Years: Is It Right for the Next 50?" Together the speakers will consider the past, the present, and the future of Overlake.
From Fulton, we'll head to the gym at 5 pm, where we'll induct several new members into the Athletics Hall of Fame. This year brings a new first in that Bill "Army" Armstrong will be the first coach inducted. We'll also welcome his 2006 State Champion Boys' Tennis Team as new hall of famers. The evening will conclude with a reception in the Campus Center with food and drinks and the chance to see our 50th anniversary wall with a timeline that visually tells Overlake's story.
As you can tell from the signs that greet you every morning when you drive up the hill to the school, from the signs on the front of the admin building, the display in the Campus Center, this first set of special events, and more that are to come, we are excited to have arrived at this anniversary. But 50 is worthy of acknowledging, taking stock of, pausing, and reflecting, especially because we've become sturdy and established and in a terrific position to look forward and think intentionally about what's next and where we're headed. Given the pace at which change is now happening, this is an especially critical juncture.
So, please join us this Saturday! Come and learn more about the school's past, our present, and how we're planning for and eagerly anticipating the future.
Warmly,
Matt
(Editor's note: This photo of Matt on a bulldozer is in honor of the late Dean Palmer, Head of School for many years, who was well-known for riding bulldozers and was instrumental in constructing the Overlake campus as we know it today)