Overlake Prepares for 50th Anniversary Events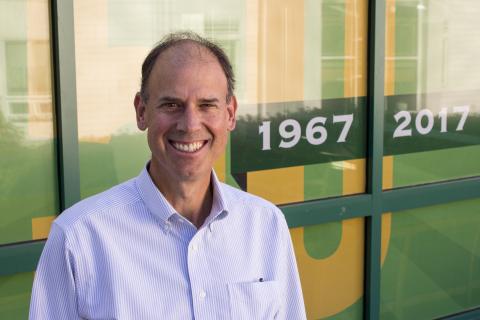 For teacher Bob Bristol, the next week is crunch time.
For more than a year, he's been working on a variety of events celebrating Overlake's 50th year including The Overlake Show on October 6 and Overlake Day on October 7.
It all starts on Friday, October 6 with our green and gold Spirit Day as students, faculty, and staff will wear their assigned colors in a day full of games and activities.
When the school day is complete, fans will march from the Owl's Nest down to the soccer field for our Girls' Varsity game against Northwest.
Later that evening, high school students are invited for a favorite upper school tradition, The Overlake Show. It's a program of improve, lip sync, and sketches made up of student and faculty acts. Bristol has engineered the show for years, and this year is taking a retro theme with acts requiring music from before 2000. "Events like Overlake Show are part of that high school experience," says Bristol. "I've danced, sung, and played instruments for the show which I've never done before. For a kid without that stage persona, it gives them a chance to get up there and perform in front of an audience that is hooting and hollering for them."
Saturday morning begins with the return of another Overlake tradition not seen in a few years.
Flight of the Owls is a 5k run along our school's picturesque trails. "It's a pretty challenging run with lots of hills, but we wanted our families to experience our beautiful trails," says Bristol. Registration begins at 8:30 and the run begins at 9:00. Everyone is invited to take part, and Bristol stresses that walkers are also encouraged to participate. The course ends at the center of the turf field, and Overlake's Transportation Director and sports announcer Bill Neil will encourage runners as they come down the final stretch. Refreshments will be provided afterwards.
Saturday evening, we honor Overlake's fifty year history with an alumni program in the Fulton Performing Arts Center. It's a chance for our community to hear from grads including Kim Poplawski '79, Kate Berry '08, and current ASB President Holly H. '18 who will share stories of how an Overlake education shaped their lives. "It'll be great for current parents to see the product of an Overlake education," says Bristol. "It's a great chance to say 'This is what Overlake is' and hear it from people who have taken it somewhere."
From Fulton, the activities move to the gym where we'll induct the newest members of our Owls Athletic Hall of Fame. 2006's undefeated Boys' State Championship team will be honored. Bill "Army" Armstrong who coached that squad will also be the first coach inducted into the Hall of Fame. Armstrong has coached for decades along Owl sidelines for tennis, basketball, and soccer.
The evening will conclude with a reception in the Campus Center. It's an opportunity for our community to share their Overlake memories, and check out our 50th Anniversary historical wall display. Bristol says that the Overlake student experience is special, and our families should take pride in the events. "I'm not an Overlake graduate," says Bristol, "After more than a year of research and planning, Overlake students amaze me. From students literally building the campus to students leading services projects like our Cambodia school, there's that sort of initiative that Dean Palmer referred to as 'Sticking your Neck Out' that builds the spirit and pride that I know will continue for decades."
Click here for a complete list of 50th Anniversary events.