Impact Club Gives Peace Pole a Facelift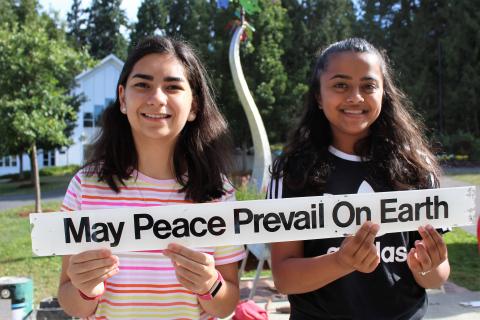 During Tuesday's MS Club, the Impact Club used their period to give one of Overlake's identifiable markers a facelift.
The club's advisor, Mahtab Mahoodzadeh led students on removing the peace pole from the Owl's nest and working on it. "The students really took up the challenge," says Mahoodzadeh. "They rolled up their sleeves and got their hands dirty."
Impact Club members refinished the pole, removed the peace messages and by reapplying them overall sprucing up the entire installation. 
Overlake's Peace pole went up shortly after 9/11 by early Impact Club member Kate Berry '08.
With sixteen years of snow, rain, sun, and sleet, Mahoodzadeh says it was time for an improvement project. While some students worked on the pole, others prepared a program for the re-dedication on Thursday, September 21 as part of the United Nations International Day of Peace.
"This project reflects how we can successfully all contribute for a common goal, peace in this case, by doing a variety of things," says Mahoodzadeh.
The MS Impact Club will have a number of activities on that day including Soccer for World Peace and a bake sale during MS lunch for UNICEF. If you'd like to join us for the ceremony at the flag pole, it begins at 11:45 a.m.
Click here to view a slideshow of the MS Impact Club at work.