Overlake's 50th First Day of School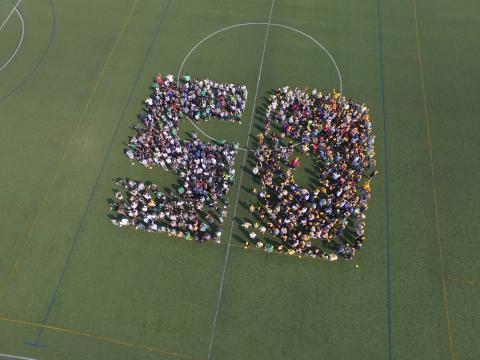 The first day of school brought back many traditions, but we also tried something new. 
As students arrived, they were welcomed by a raucous Class of 2018 that welcomed all on campus. After short assemblies for US students in Fulton and MS students in Discovery Hall, students headed off to classes. 
In the afternoon, the entire Overlake community gathered at the lower fields to welcome our fifth graders and cheer them on to their green or gold groups. As each student accepted their baseball cap, they got to run through a rally tunnel.
The day finished with everybody gathering on the turf field to take an aerial video of our 50th formation. As they left the field, they enjoyed cold treats.
We've got lots of great anniversary events planned throughout the school year, and we want to make sure to share them all with you.
Here's a short video from the afternoon's All-School Assembly.
Here's also photo slideshow of first day fun.