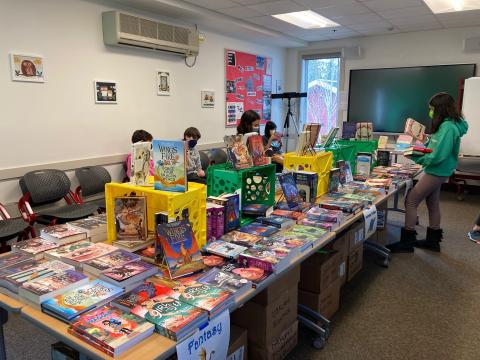 "You are not done with a book until you pass it to another reader." - Donalyn Miller
Introducing Book Bonanza!
This year, instead of Bookfair, Overlake is trying something new. We are requesting the Overlake community to donate new or gently used books, fiction or nonfiction, that would be of interest to a student in 5th, 6th, 7th, or 8th grade. We will collect donations in the library, and we will count the number of donated books, and divide that by the number of students, to see how many books each student may take. Bonanza dates are October 24 and 26, in the Board Room in the Campus Center.
Students will visit the Bonanza with their English classes to select books, and can also come during lunch, break, and after school on the first day of the Bonanza. Books remaining at the end of the Bonanza will be up for grabs. Remainders not selected will be donated to another organization.
Please only donate books in good condition, for the appropriate grade levels. No textbooks or ex-library books, please. If you have questions about what to donate, or other questions about the Bonanza, please contact Rebecca Moore: rmoore@overlake.org.
This is a great opportunity to share books that your students have already read or maybe outgrown. It will clear up space in your home libraries, and give Overlake students even more opportunities to find books they love.
"Books should go where they will be most appreciated, and not sit unread, gathering dust on a forgotten shelf, don't you agree?" ― Christopher Paolini