What's Cooking at the Spitfire?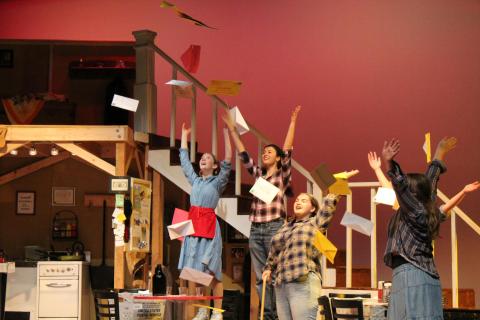 Music is in the air at Overlake in anticipation of opening night for the Upper School Musical, The Spitfire Grill.
Set in rural Wisconsin, Percy, a recently released convict sets out to build her new life. She lands in the small town of Gilead, Wisconsin where she takes a job as a waitress at The Spitfire Grill working for Hannah, the owner with a painful past and failing health. Along the way, Percy faces the heat of small town gossip as she tries to build her life and shake the weight of her past.
The Spitfire Grill tells the story of redemption, second chances, the power of friendship, and the challenge of carrying secrets.
Drama teacher Kera Wright is new to Overlake and directed the entire show right up until the final couple weeks when she left on family leave. But she hopes that everyone will come out and enjoy the show and the hard work the students have put into the show.
"The audience can look forward to a touching story about the weight (and secrets) people carry with some truly beautiful music," Wright says.
The intricate sets were designed by Bill John's stagecraft class from last semester and built by the stagecraft students from this semester.
The show opens tonight at 7:30 and continues Saturday at 2:30 and 7:30. Tickets are available online at showtix4u.com or at the door. Come see for yourself "what's cooking at the Spitfire Grill."