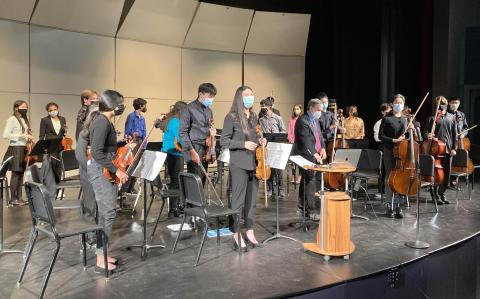 Music is in the air just in time to usher in the holiday season. The Fulton stage is ready and excited to welcome back live music performances. Just before Thanksgiving, Middle Schoolers were treated to an early preview from the Overlake String Orchestra concert, directed by Mark Lotz, Arts Faculty.
"Some students expressed being nervous, but all were happy to play together on stage for an audience. It was the orchestra's first concert in nearly two years!" Lotz said.
This year Lotz is very happy to have a student pianist and harpist as a part of the ensemble, but also a few seniors participating in the Strings Orchestra. Click here to see the Strings performance.
To see upcoming performances, attend in person or click the links below to tune into a livestream of upcoming concerts.
Music Performances
Past performances
Thur Dec 2       6th Grade Choir – View recording
Thur Dec 2       7th/8th Grade Choir – View recording
Upcoming Livestreams
Fri Dec 3          7:30pm      US Choirs - Join the livestream
Wed Dec 8       6:00pm     5th/6th Grade Bands - Join the livestream
Wed Dec 8       7:30pm     7th/8th Grade Band - Join the livestream
Thur Dec 9       7:30pm     US Bands - Join the livestream
Fri Dec 10        6:00pm      Beginning & 6th Grade Strings - Join the livestream
Fri Dec 10        7:30pm     String Orchestra - Join the livestream