Presidential and National Merit Scholars Announced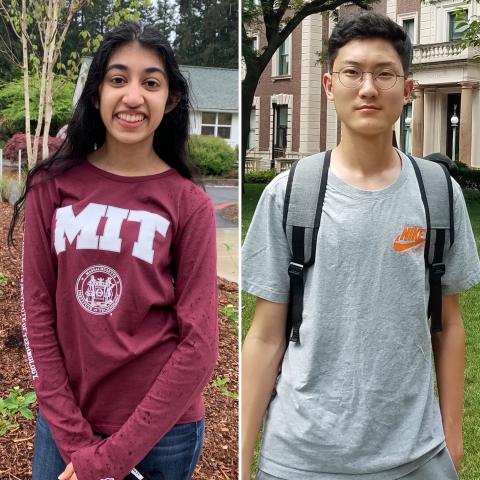 Congratulations to the following Overlake students recently recognized in the U.S. Presidential Scholar and National Merit Scholar programs.
Mehek Gosalia ('21) is one of 625 semifinalists in the country to advance to the final round of the U.S. Presidential Scholars competition. The program was established in 1964 to recognize and honor some of our nation's most distinguished graduating high school seniors. Gosalia will now compete to be selected as one of the 161 students who will be named as Presidential Scholars.
Congratulations to Sangbeom "Sammy" Yang ('21) recently recognized as a National Merit Scholar Winner. This award is the result of scoring in the 99% on the PSAT test in September 2020. There were over 1.5 million students who took the PSAT and only 17,000 scores in the 99%, which represents less than 1% of all high school seniors across the country.
Beyond test scores, Yang also submitted an essay and provided information about his academic record, school activities, employment and other awards received. There are just 7,500 Finalists selected to receive National Merit Scholarships totaling nearly $30 million. Yang is now in that company and will receive scholarship funds.
In addition to our Scholar Winner, Overlake has seven Finalists in the National Merit Scholarship Program- William C. Desler, Mehek A. Gosalia, Tyler E. Hsia, Neha Magesh, Jakob Olson, Aiden Smith, and Max Zhao as well as 15 Overlake students who received Letters of Commendation in recognition of their high PSAT scores. Please congratulate the following commended students - Tejesh Anand, Adrian G, Avram, Stefan Beskin, Yohan Cho, Ivy J. Haight, Sara J. Hong, Ananth V. Iyer, Alex M. Klinck, Edward B. Lautch, Yash M. Mehta, Alan Ngouenet, Allison M. Pae, Malikka Rajshahi, Tejfateh Singh, Karthik V. Vetrivel.