Upper School Athletes are Excited to Compete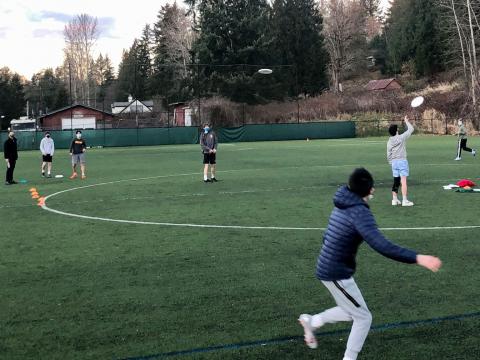 It feels a lot like winter, but fall sports are on everyone's mind.
Following the recent WIAA recommendation's, Overlake is returning to a fall sports schedule on Monday. That means you'll see Owls back on the volleyball court and tennis courts, soccer and ultimate fields, and on golf courses and cross-country trails.
While the WIAA granted schools the ability to practice at the start of the month, it was up to each league to determine their own seasons. As a member of the newly formed Emerald Sound League, Overlake's athletes begin practices on Monday. Before that, student athletes were allowed to attend optional practices that focused on skills and conditioning. Now, it's time to prepare for a return to competition. "With all the focus in the classroom in the last year, we know we can deliver quality remote education via distance learning, but what the kids miss is the connectivity, the team sports, and getting together as students. It's what we've all missed," explains Wiley. "For us to be able to get together for the next 19-weeks and play sports just for the love of it is something that we all hoped would happen. It's going to be an effort on everyone's part...coaches, athletes, their families, and certainly our athletics department to keep everyone as safe as possible by following protocols not only at Overlake, but also at the league level because we're so interdependent on each other."
The athletic calendar is made up of Overlake's fall sports teams. For many, the adjustment of playing a sport normally played months earlier is unique, especially in outdoor sports where Overlake has never competed in the winter chill. "It's definitely a little weird running in February. It's colder, wetter, and gets darker earlier than our normal fall season," says Cross Country Coach Colton Umberger ('14). "But adaptability has been the name of the game this year and that's exactly what we're doing. We've adjusted our practices, worn more layers, and are prepared for what's ahead." 
The joy of returning to competition hits especially close to Overlake Seniors. Volleyball player Sydney G. ('21) has seen exponential growth of the program in the past several years which includes return trips to the state tournament. "After missing out on so many things seniors usually experience, it's nice to have this because it feels normal (minus the masks making it obvious that things really aren't). It's also nice that I get to experience this with my other senior teammates who have also been a part of the volleyball program since freshman year when seven of us made varsity," explains the Senior who has been a starter for four years. "I'm happy and so lucky to have had the best group of friends on my team and in the program. This volleyball program has been my family and I'm so happy I'll get to experience it one last time!" 
While the goal of bringing athletes back to campus for sports hasn't changed, one major difference for Owls fans is that spectators will not be allowed at competitions. Wiley says his team has been looking at innovative ways to bring technology into the mix and says to keep an eye out for games via our social media channels and through the subscription web television network NFHS. 
Click here to learn additional details about our Season One/Fall Sports. Go Owls!