Owls Volleyball Named Team of the Month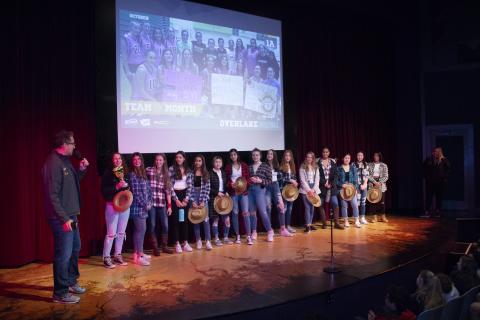 Congratulations to Overlake Volleyball for being named the WIAA October Team of the Month.
During announcements on Monday morning, the team was invited on stage to be recognized for their terrific play and community service.
Here's what the WIAA had to say about our team.
The Owls' Volleyball team had a terrific October, going 9-0 (set scores 27-2) to extend their record to 18-1 for the season. In addition, the team earned a 3.7 grade point average, and, through its "Dig for a Cure Night" (October 10), raised $1,899.25 for Cancer Pathways, providing education, support, and a community-centered approach to families battling cancer. This is the most successful volleyball team to date in school history, and its commitment to doing things right on the court is only matched by the team's desire to be leaders in the classroom and the community.
Go Owls!
You can catch the team in post-season action Monday evening when they host the Emerald City League Tournament beginning at 6:00p.m.
Click here to read the entire article from the WIAA.