Choir Prepares for December Concert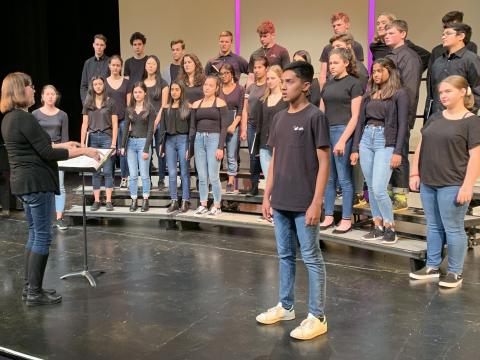 Winter may be the last thing on people's minds, but for many Overlake music students, it's the time to prepare for their concert season. 
Dozens of choir students, both in Middle and Upper School, shared the stage this past week during assemblies to present a sneak peek of their program. "It gives us a chance to get out in public, with nerves and all – and share some music. And it gives our audience a sense of what it is that we do in our classes," says Choir teacher Erin Gabriel.
The performance is the first for many of the MS students and Gabriel concedes that performing in front of your classmates is the toughest audience to impress. "One really special thing about the Upper School singing for the Middle School is that most of the Upper School singers were once sitting in those seats – watching the older kids perform. It's nice for the older kids to look back, and the younger kids to look ahead," adds Gabriel.
The entire Overlake community will have an opportunity to see our choirs at their Friday, December 6 concert in the Fulton Performing Arts Center. Click here to see highlights from last Thursday's assembly performance.