Campus Construction Begins this Summer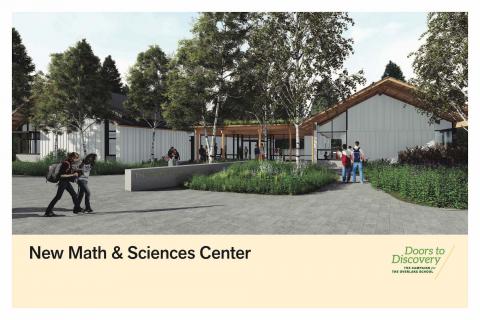 Beginning next week and into all of next school year the Overlake campus will be in a state of transformation. From the moment you drive onto our campus you'll notice the changes. That's because construction crews will begin replacing the winding roadway into campus, widening it and creating less jarring speed humps rather than the current speed bumps. Crews will also be constructing several small retaining walls along a portion of the road.
During this time, the roadway into campus will remain open for one lane of traffic and crews will be directing cars. Because of this construction, please allow yourself more time to get to campus this summer.
Along with the road construction and pending permits from the County, construction will also be potentially happening on the lower athletic fields. Field Two, which is commonly used for soccer and ultimate, will undergo major work to replace the current grass field to a synthetic turf field.
The small field adjacent to our current Field One, which currently houses a storage shed, will become a multi-use facility with batting cages and pitching facilities. While it will remain a grass field, it will be usable by various teams including soccer, lacrosse, ultimate, and baseball. The entire complex will include new fencing, and paved parking.
If permitting goes as planned, construction on the new fields will begin in July and is expected to be completed in October, with a formal dedication ceremony at completion. 
Farther up the roadway as you approach the academic portion of campus, is where the most visible construction is occurring. Beginning next week, demolition crews will take down the old Math/Science building and Discovery Hall to make room for the new Math & Science Center. Throughout a large portion of the summer, construction will focus on the removal of the old structure and preparing the ground for the new building. The foundation for the larger 30,000 square foot building will start to take shape.
Construction of the new Math & Sciences Center is expected to take all of next school year with students being able to use the new classrooms at the beginning of the 2020-21 school year. 
While the new structure is under construction, math and science classrooms will need to meet elsewhere next school year. In preparation, several modular learning units, or portable classrooms, will be positioned around campus to hold various classes. The fifth graders will have most of their classes in these units, so that the Upper School science courses, which require plumbing for their labs, can utilize the first floor of the 5th/6th Grade building next year.
To stay up to date with all the campus construction throughout the summer, including a look at the construction of the new Math & Sciences Center through a live construction camera, and to learn more about our capital campaign, Doors to Discovery, visit our website at overlake.org/discovery.