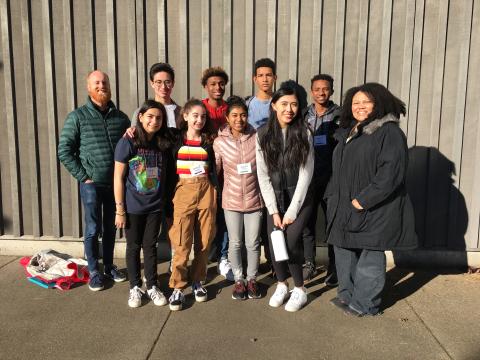 Eight Overlake School students connected with dozens of teens from across the Pacific Northwest in a two day conference promoting leadership and activism through diversity. 
The NWAIS Student Diversity Leadership Retreat was an opportunity for upper school students to come together, connect, and build both relationships and skills around communication and inclusiveness. "I am so grateful that I had the chance to engage with an awesome group of over one hundred kids who care about diversity, equity, and inclusion," says Overlake Instructional Coach Leslie Harris-Johnston. "It gave me great joy to listen to the future leaders of the world."
Students explored the role of art in social movements, developed skills around diversity, equity, and social justice, participated in activities that they could bring back to school, generated a plan for leading, and participated in affinity spaces.
Overlake students are already planning campus activities for this spring.
This year's conference was held at Catlin Gabel School in Portland.