National Merit Scholars Announced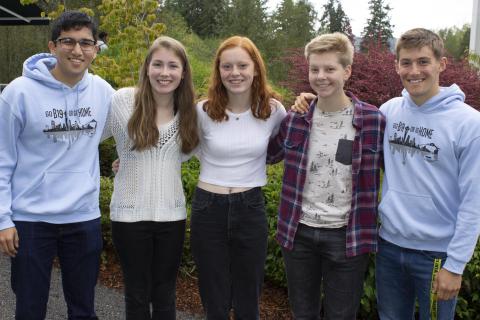 Congratulations to the following Overlake students recently recognized as Semifinalists in the National Merit Scholarship Program- Edward Button, Marielle Fries, Nachiket Karmarkar, Jaquelin Nordhoff, and Phoebe Wall.
This award is the result of their scoring in the 99% on the PSAT test in November 2017. There were over 1.6 million students who took the PSAT and only 16,000 scores in the 99% which represents less than 1% of all high school seniors across the country. 
These students now have the opportunity to compete for scholarships from both colleges and the National Merit Scholarship Corporation. This competition includes the students submitting a detailed scholarship application that includes a written essay, information about their academic record, participation in Overlake school activities as well as community activities, demonstrated leadership abilities, employment, and honors and awards received.  
In addition to our semifinalists, 19 Overlake students also received Letters of Commendation in recognition of their high PSAT scores. Please congratulate the following commended students -  Julia Acton, John Bush, Evan Dragich, Arlo Rafael Encarnacion, Grace Fujinaga, Nathaniel Getz, Felix Huang, Natasha Kacharia, Samuel Kehoe, Keely B Likosky, Emma Long, Vivek Parthasarathy, Olivia E Sather, Sarah Schwartz, Abigail Shepler, Michael Simpson, Mihika Srinivasan, Evan Williams, and Jacob Wright.
National Merit Scholarship winners will be announced this spring.