Ashland Oregon Shakespeare Festival
Project Week Selections
Please
log in
to select projects.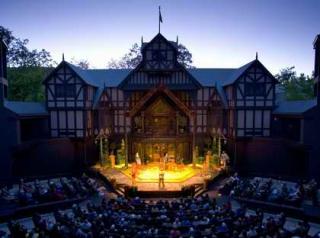 Calling all who love theater, inside and out! The Oregon Shakespeare Festival is NOT just Shakespeare! This spring, students will see three plays at the renowned Oregon Shakespeare Festival, and one musical at the Oregon Cabaret Theater – all in the lovely town of Ashland, Oregon. We will attend workshops with actors of the company, a series of prologues for each play designed to inform and enhance the experience, a design workshop around sets, costuming, lighting, and sound, and a multi-media backstage tour. After each play, students will engage in vigorous discussions about the production's themes, staging, acting, etc. This project will enhance your understanding of all aspects of theatre, including themes, characters, language of the plays, stagecraft and design, costuming, makeup, and the art and craft of acting.
Special Considerations
This project may arrive back to campus late Friday evening.  If you are considering traveling after project week please make plans to leave late Saturday or sometime after. 
Project Week Timeline (2019-20)
November 9 - Catalog Published
November 20 - Independent Proposals Due
November 10-20 - Student Selection Period
December 20 - Student Placement Published
January 24 (9:05 – 9:45 am) and March 13 (9-9:30 am) - Project Week Group Meetings
March 30 - April 3 - Project Week