Project Week Selections
Please
log in
to select projects.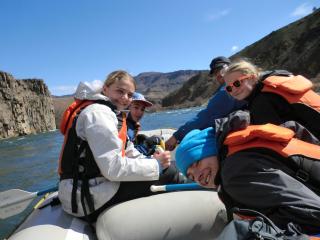 The Lower Deschutes River is a designated Federal Wild and Scenic River as well as Oregon Scenic Waterway.  Class I-III whitewater meanders through rolling hills and basalt cliffs in a beautiful and unique semi-arid desert ecoregion.  The watershed has a rich cultural history, providing sustenance for thousands of years for the Warm Springs and Wasco tribes.  The watershed is currently managed by multiple agencies, has a plethora of stakeholders and like many watersheds on earth is facing increasing challenges in water quality, quantity and overall sustainability. 
As students immerse themselves on a mult-day rafting trip on the Deschutes river, they will not only learn what it takes to be a part of a small river community, but also what it means to be a part of the larger ecological community on the river.  Through hands-on activities, students will gain insight into the components of a healthy watershed.
Students will learn how field and citizen scientists assess and monitor water quality through hands-on activity stations.  Stations include macroinvertebrate sampling through dip-net and kick-net techniques, temperature and PH testing and data recording.  These activities will deepen student understanding of the Deschutes River Watershed and provide real-world science application & data collection techniques.
Project Week Timeline (2019-20)
November 9 - Catalog Published
November 20 - Independent Proposals Due
November 10-20 - Student Selection Period
December 20 - Student Placement Published
January 24 (9:05 – 9:45 am) and March 13 (9-9:30 am) - Project Week Group Meetings
March 30 - April 3 - Project Week