It's Basketball Playoff Time!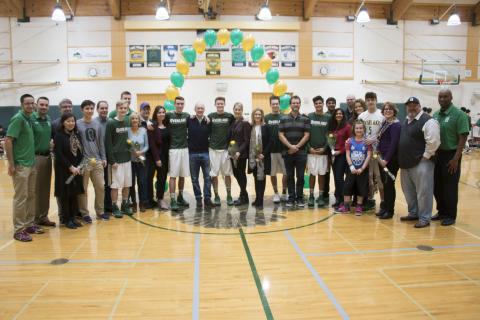 Overlake Boys' and Girls' teams have been a surprise on the court this season. The teams' similarities are so tied together in their success with both finishing the schedule with 17-3 records. Together, they've combined for a 29-game winning streak. 
The Owls hoopsters are enjoying the success, but now their focus is on the post-season. The Emerald City League Basketball Championships begin Friday evening as the Boys' Basketball team takes on Northwest at University Prep. Tip-off is at 5:00 p.m.
Girls' Basketball takes to the court next week with Bi-Districts Thursday. Finishing second in the league, the team hopes to make a run to the state tournament. 
Wednesday's Senior Night honored two senior girls and seven senior boys. With parents, coaches, and players taking to the court during pregame ceremonies. Click here for highlights of the evening.
GO OWLS!