Overlake Celebrates 50th Year with Dark Day Celebration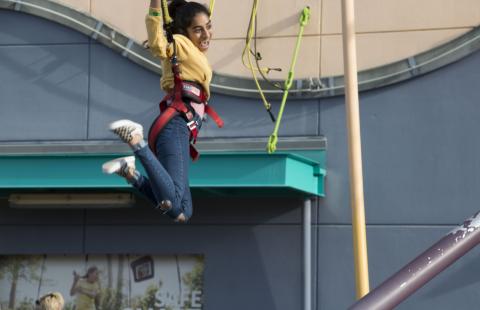 Shortly before 9:00am Monday morning, students, faculty, and staff were told to gather their coats and to head to the gym for an announcement. When they arrived, Matt Horvat told everyone that today is Dark Day, an Overlake tradition dating back to the 70's when then Head of School, Dean Palmer, would mix things up during the dark winter months and take everyone on field trips to movies and roller skating. More recently Overlake has celebrated this Norwegian tradition during it's 40th, 45th, and now 50th school anniversary.
Today's Dark Day involved a trip south to Tukwila for a day at Bullwinkle's Family Fun Center. The entire school went and had the place to themselves. Students spent the day inside playing video games, laser tag, air hockey, and outdoors with go carts, mini golf, and bumper boats. 
To see some of the fun, visit our slideshow on Vidigami and click here to see video highlights.