Build a Rube Goldberg Machine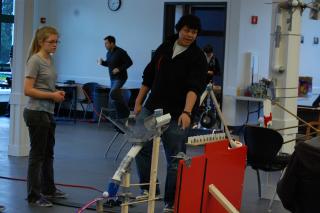 Our goal will be to build an incredibly complex machine designed to take many steps to complete a simple task.  Remember the game Mousetrap?  We'll follow the same model, but on a much larger scale and with an amazing array of everyday materials that can be adapted for anything but their intended use.  Students will learn some basic principles of mechanics and simple and complex machines, as well as be introduced to the use of workshop tools.  Requirements are a wild imagination and a willingness to experiment and create many spectacular failures before eventually finding success.  Search for "Overlake Rube Goldberg" on YouTube to see previous machines in action!
Educational Objectives:                                          
This is a completely hands-on experience that provides students with a basic explanation and constant materials support and guidance, but allows them to make all decisions on the ultimate direction of the project.  It requires creativity, cooperation, problem-solving, and plenty of patience to create success.  The group will plan for the final project together, and then work first as pairs to create a portion of the final machine, link that portion together with other pairs, and eventually move toward a single contraption incorporating the efforts of the entire team.