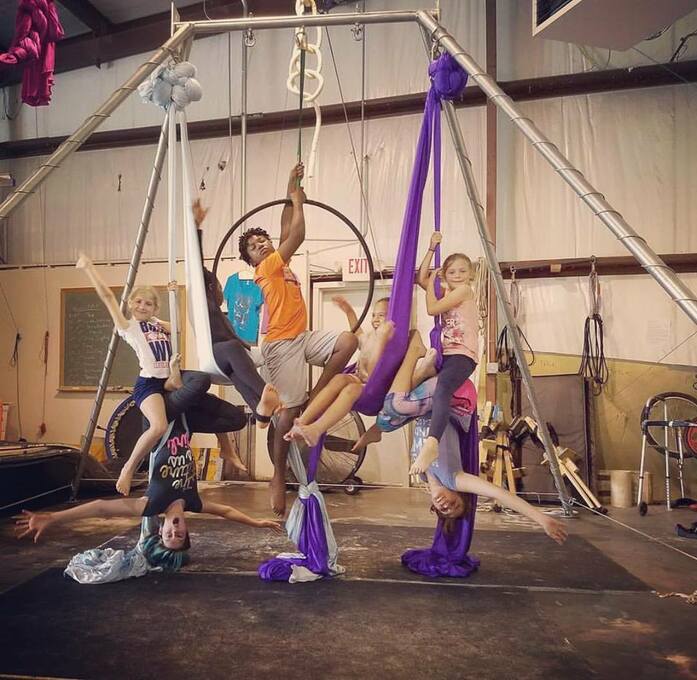 Ever been to the circus and wondered how they learn to do their breathtaking acts? Ever wanted to to challenge yourself to be brave and try something you've never tried before?  Then Circus Week is for you!
This project week will challenge your courage and creativity as you learn how to do a range of circus arts: silks, lyra, hoop, juggling, acrobatics, trampoline, and possibly even flying trapeze!  We will be taught by the experts at SANCA: School of Acrobats and New Circus Arts in Seattle.   
Contrary to popular belief, you do not need to have any prior experience in circus or gymnastics, and you don't need to be 'strong' to participate. Being physically active on a regular basis beforehand is a recommended prerequisite as this week will undoubtedly be both a physical and mental challenge - but one filled with achievement beyond your expectations and tons of fun!
Take the plunge, rise to the challenge, try something you've never done before!  Circus Week promises to bring out the fun, bravery, strength and resilience in us all.
Special Considerations
Due to the hours of operations at SANCA, we will have a later start and end time than the typical school day. We will depart Overlake at 9:00am and return to Overlake at 4:00. If students typically take Overlake busses, they will need to arrange for alternate pick-up from Overlake. 
It is recommended that you wear leggings and sports top during the classes.  
Students will need to bring a sack lunch daily. 
Participants must be willing to follow COVID guidelines.  Participants should only attend illness free. If a participant should test positive for COVID during the project, the student will be isolated, and the student's family will be required to pick them up at their current location.  The family will bear all the costs associated with the student pick up. 
By selecting the above project, you and your family are accepting the financial responsibility for the cost of the projects.  This includes any unrecoverable expenses incurred if Overlake, or any federal, state or local government forces cancelation of the project, or if you or your family decide not to attend, or if your student becomes symptomatic and has to be isolated. 
Project Week (2022-23)
Mar 27, 2023 - Mar 31, 2023