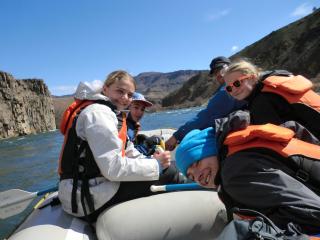 The Lower Deschutes River is a designated Federal Wild and Scenic River as well as Oregon Scenic Waterway.  Class I-III whitewater meanders through rolling hills and basalt cliffs in a beautiful and unique semi-arid desert ecoregion.  The watershed has a rich cultural history, providing sustenance for thousands of years for the Warm Springs and Wasco tribes.  The watershed is currently managed by multiple agencies, has a plethora of stakeholders and like many watersheds on earth is facing increasing challenges in water quality, quantity and overall sustainability. 
As students immerse themselves on a mult-day rafting trip on the Deschutes river, they will not only learn what it takes to be a part of a small river community, but also what it means to be a part of the larger ecological community on the river.  Through hands-on activities, students will gain insight into the components of a healthy watershed.
Special Considerations
This Project Fulfills Outdoor Education Requirement.
Student won't return to Overlake until late in the evening on Friday, March 31.  Please don't plan any travel that day.  There is a slight chance that this trip may end on Saturday, April 1. Please don't plan any travel until the dates are fully locked. 
Overlake requires that on a day to be specified before departure, Overlake will administer a COVID test to all participants and leaders. To participate in the Project Week, the test must be negative, and students must be symptom-free from any illness to leave on a trip. 
Participants must be willing to follow King County and destination travel COVID guidelines.  If a participant should become COVID positive during the trip, the student will be isolated, and the student's family will be required to pick up the student within 36 hours at their current location.  The family will bear all the costs associated with any travel to pick up their student and any costs for isolation or return travel. 
By selecting the above project, you and your family are accepting the financial responsibility for the cost of the projects.  This includes any unrecoverable expenses incurred if Overlake, or any federal, state or local government forces cancelation of the project, or if you or your family decide not to attend, or your student becomes COVID positive and needs to be isolated. 
Project Week (2022-23)
Mar 27, 2023 - Mar 31, 2023