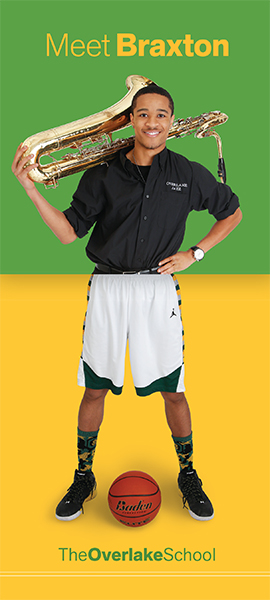 Meet Braxton, a busy Senior who's involved around campus. From serving as President of Overlake's student government (ASB), to playing saxophone in the Jazz Band, and then tearing it up on the basketball courts, Braxton has found plenty of ways to get involved with the Overlake community.
Braxton's favorite subject: "History is my favorite, because I like learning from the past and yet seeing the cyclical nature of humanity. History shows us we have the opportunity to face some of the same issues again."
The best part of Overlake: "The genuine relationship between students and faculty and the ability to develop personal connections here."
What you might not know about Overlake: "It is easy to get to know everyone on campus. We don't all talk to each other because we're a small school or because we feel we have to, we do it because we want to!"
Braxton will be attending Manhattan College.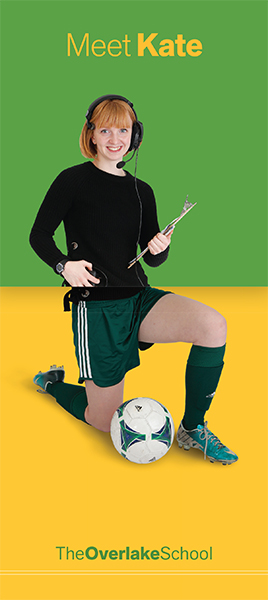 Meet Kate, a smiling 10th grader who started at Overlake in the 6th grade. During her time at Overlake, Kate has learned how to make a theater production shine. As a member of tech theater, Kate routinely does sound and lighting support during shows. When not in the Fulton Performing Arts Center, Kate is on the soccer field, supporting her teammates with some great soccer moves.
Kate's favorite subject: "I have two — science and Spanish. They're really different, but I feel like each acknowledges the rules of their language while allowing for creativity."
The best part of Overlake: "The best part of Overlake is the close knit nature of the community. I can feel part of something bigger while also having interpersonal relationships with my peers and teachers."
What you might not know about Overlake: "The one thing you might not know is there are a lot of traditions, such as dark day (a school-wide outing), field day (class competitions), and OLOT (a school dance)!"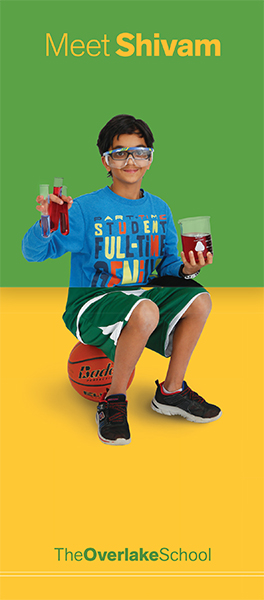 Meet Shivam, a spunky 5th grader who is not afraid to dig into school. "We get to do so many hands-on projects. These projects are challenging but always fun." And although this is Shivam's first year at Overlake, he's already finding a home in the science lab and on the basketball court. And because of Overlake's sprawling outdoor campus, students like Shivam get to spread their wings a bit. "We don't have to walk in lines here. I love being so free."
Shivam's favorite subject: "A subject is only as good as a teacher and luckily for me, all my teachers are fantabulous. I love all of the teachers and would love to give them a standing ovation."
The best part of Overlake: "I think the best part of Overlake is the number of ways there are to be physically fit. First of all, we have two whole gyms. Secondly, our PE teachers show us new games like pin down or volleyball. "
What you might not know about Overlake: "There are several trails throughout campus. One day I would love to go explore them with some of my buddies. During service week we cleaned the trails for the cross country team. It was hard work but we also got to enjoy the outdoors."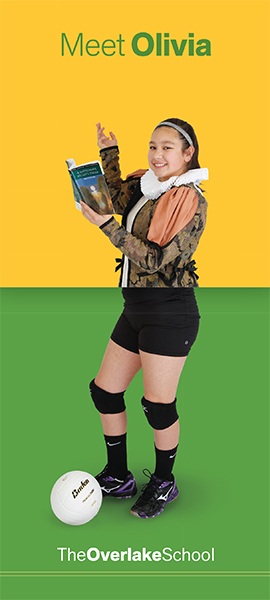 Meet Olivia, an energetic Overlaker who is wild about drama. When she's not reciting Shakespeare, Olivia is spiking volleyballs across the net. Beyond her time on stage or on the court, Olivia spends time in the classroom enjoying Spanish and math.
Olivia's favorite subject: "Math. The teachers challenge me in a supportive way and teach me not just the 'how' but the 'why' in problem solving. I love computational thinking!"
The best part of Overlake: "Making new friends! Overlake has such a diverse student body that I learn something new from my friends every single day. "
What you might not know about Overlake: "Even though it's a large campus, it's not difficult to find your way around. Also, Gola is a really fun game to play!"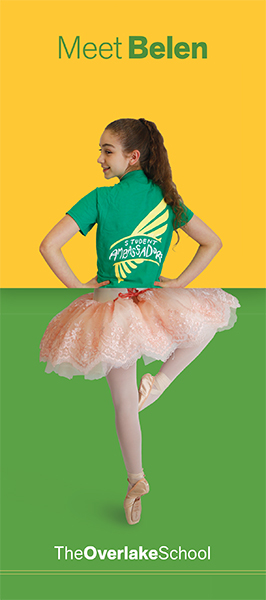 Meet Belen, a middle school student who is always on her toes! Belen enjoys ballet and expressing her creative side. When she's not performing, Belen helps the Admission team at Overlake as a Student Ambassador. Belen and other Overlake students share their school experiences with other interested students looking to join the community.
Belen's favorite subject: "Drawing Basics. In this fun class, I get to use a great variety of materials including chalk, paint, graphite and clay to create several pieces of art. I not only discovered new ways to blend colors, but I also learned about perception and how the brain can distort images of the things we see every day."
The best part of Overlake: "Overlake has lots of opportunities and events to learn about things that you want to learn and do things that you like to do. One of my favorite events is the Halloween catwalk. I love seeing everybody dressed up! "
What you might not know about Overlake: "Overlake has spirit weeks where you can dress up and support the school spirit."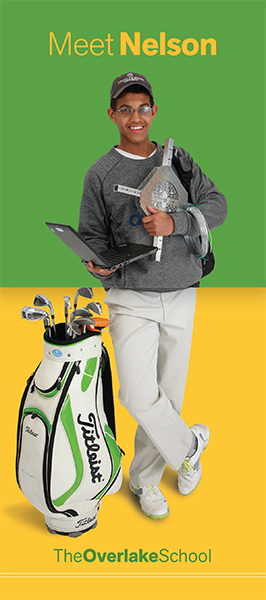 Meet Nelson, a Junior who's always thinking of the next step, whether that's getting a homemade drone to fly or getting his ball close to the pin. Nelson is part of Overlake's Engineering club as well as the golf team.
Nelson's favorite subject: "My favorite subject is a tie between AP English and AP Physics. I enjoy English because of the material that we as a class cover from the rhetorical triangle with the study of "The Great Gatsby" to our junior research paper. I also love Physics because of the applied mathematical aspects and lab work that help us solve complex problems."
The best part of Overlake: "The genuine connection that the students and teachers have. Along with just working in the classroom, teachers become mentors outside of the classroom during project weeks or clubs, or even just visits during office hours. "
What you might not know about Overlake: "The tight nature of the student body and the true sense of community that penetrates deeply throughout the school."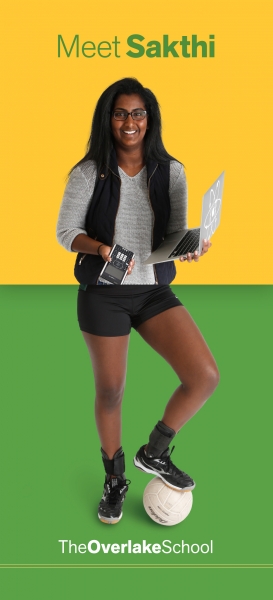 Meet Sakthi, a recent graduate of The Overlake School. Over the course of her eight years on campus, the tight-knit community has kindled her passion for volleyball and engineering. When she's not tearing it up on the volleyball court, she's tinkering, developing improvements for her app and geeking out over the latest tech innovations. "The most amazing part of the Overlake community is how supportive the school was in my initiative to form the school's engineering club and entrepreneurship club. They've been absolutely essential to my pursuit of these passions in balance with my athletic career."
Sakthi's favorite subject: "I've really enjoyed the physics classes at Overlake. I love all of the hands-on work; working with my colleagues to build a tennis-ball launcher, a mousetrap car, and the reverse classroom really lends itself to collaborative work."
What you might not know about Overlake: "When we mention a tight-knit community, we really do mean it. While I'm walking around from class to class, it's easy to stop and have conversations with students I may not even know. It's completely normal to have freshman and seniors interact on a daily basis, and that environment has helped me find mentors close at home."
Sakthi is attending the California Institute of Technology.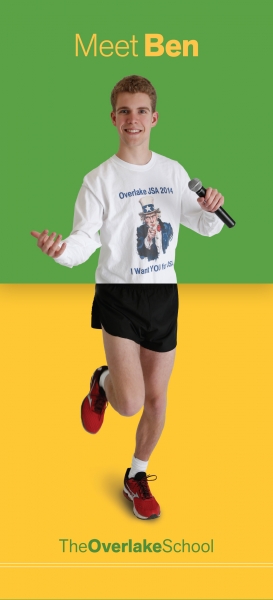 Meet Ben, an enthusiastic senior at The Overlake School. When Ben is not learning the latest theories in his favorite history class, he's on the microphone as an active member of JSA (Junior State of America) debating in contests around the region.
Ben also loves to lace up his running shoes and take to the trails with his fellow cross country teammates. "We compete against other schools during meets, and against each other during practice, yet, through mutual respect and competition, we become much more like a family."
Ben's favorite subject: History. "I took a History of the Cold War class that really brought that time to life. Our in-class debates were lively and great."
The best part of Overlake: "The amazing diversity of students that attend the school. I highly doubt that, in any other school in the country, you can find a more diverse lunch table group than mine. Nearly every race, religion, economic class, and sexual identity are proud to be represented here."
What you might not know about Overlake: "In Upper School, we call our teachers by their first names. This was strange to me at first, but it contributes to the atmosphere between the students and also between the students and the teachers. Most of my teachers know me really well and I can go to any of them for help in a class, or advice on something not even remotely related to school. It feels like we're all in this together."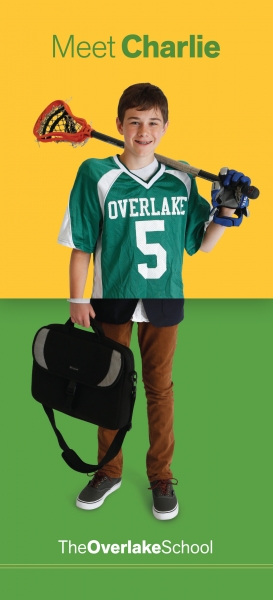 Meet Charlie, a dynamic 9th grader who isn't shy about getting involved at his school. "I have so many interests, and Overlake has a lot to offer, so it's great that I'm able to take advantage of so much right at school." Charlie has extended his learning outside of the classroom to his election to student government and to Chair of the Dance committee.
Charlie also experiences leadership on the field and court as he is part of the boys' lacrosse and basketball teams. "I've always loved sports, and being able to play for my school with my friends, in a fun environment, is the best."
Charlie's favorite subject: "I really love Science. Not only is my teacher great, but I'm very interested in physics, and the way he teaches makes it easy to enjoy class."
The best part of Overlake: "The community environment at Overlake, where everyone is there to support you, has made me excited to go to school every day."
What you might not know about Overlake: "At Overlake, there is a lot of freedom given to the students and a lot of responsibility along with that. One of Overlake's main lessons is learning how to deal with that responsibility. I feel like this is preparing me well for what's to come later in life."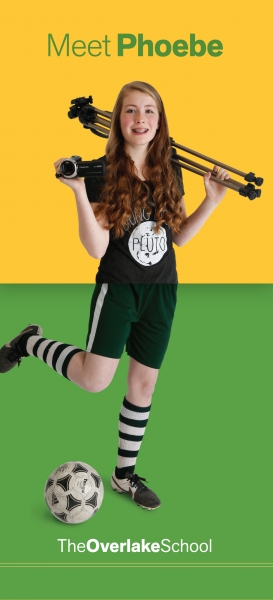 Meet Phoebe, an energetic 9th grader who loves to look at life through the lens of a camera. "I love the process of storyboarding, filming, and editing a film along with sharing the outcome with friends!"
Phoebe has attended The Overlake School since the 5th grade. "I chose to come to Overlake because I loved the well-rounded curriculum and opportunities; I often have PE, art, and academics in one day."
When she's not behind the camera or editing on her computer, Phoebe is on the soccer field defending her team's goal. "Playing soccer at Overlake encourages me to push myself while learning about teamwork in the process."
Phoebe's favorite subject: "Math because I love order and patterns and the hands-on approach to learning that Overlake provides."
The best part of Overlake: "That everyone is so open and friendly, even the teachers."
What you might not know about Overlake: "The Middle School is divided evenly among green and gold teams who have friendly competitions throughout the year, climaxing during field day at the end of the year."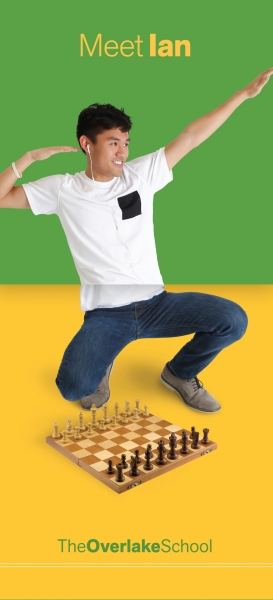 Meet Ian, a recent graduate at The Overlake School who moves to many beats. "I love to freestyle or learn hip hop choreography. My personal styles are popping and hip hop jazz." At Overlake, Ian not only perfects the latest dance move, but has a few killer chess moves too. "I've been a part of the Overlake Varsity Chess Team throughout my years at Overlake, leading the team from having no presence within our league to placing highly at state."
Ian's favorite subject: Radical Empathy English Elective class. In addition to improving my writing ability, no class has challenged my points of view, my beliefs, and my interpretation of life as much as this class."
The best part of Overlake: "The best part of Overlake is the community. Tightly knit and passionate, I find that my peers not only respect myself and each other, but all strive for excellence together."
What you might not know about Overlake: "Just down the trail from the upper parking lot is the challenge course and outdoor classroom. There you will find little challenge courses which are fun to complete."