Vidigami- Overlake's Photo Sharing Site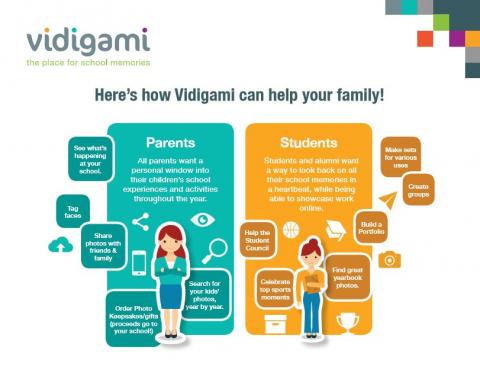 "Overlake has such a vibrant, picture-worthy vibe why not share it with the rest of the community." That's the sentiment that spearheaded the search for a robust, yet user-friendly digital media asset system to help Overlake collect and share visual memories of the school.
"This platform will allow our school to share photos with one another in our community and ultimately share in the daily lives of our amazing students and teachers," explains Susan Messier, Dir. of Communications, whose department teamed up with the Technology Department to provide this new feature.
Vidigami is a school-based photo management system that has helped hundreds of other schools manage their photo libraries. "What we discovered in preparing for our 50th anniversary celebration was the need to better store and preserve our pictorial history for the next 50 years, so Vidigami was the perfect solution for us moving forward."
The photo sharing system holds photos from the archive, dating back to the early days of school in the Redwood Manor, all the way up to the current school year.  
You can access Vidigami at https://www.vidigami.com/, but you will need an active account to view Overlake's photos. If you are a current family member or current employee, you should have received an e-mail with an account activation link. If you did not receive this e-mail, please contact the Communications Department at 425-868-1000.
Currently we do not have the capability to have your Owl-Id be your single sign on for Vidigami, however later this year there will be an upgrade to the system that will allow users to simply use their school issued Owl-Id to sign on. Stay tuned for communication when that upgrade occurs.
Participation in Vidigami is through invitation only. Because each Vidigami community is a private and secure network, participation requires authentication from Vidigami and Overlake.
You are welcome to upload photos taken at various school events, such as sporting events, musical performances, etc. To upload a photo or series of photos, first choose the appropriate school year (found under your user name in the top right hand corner) then choose the appropriate group and then make a new album. For example, photos of a 6th grade retreat for school year 2018-19 would be uploaded into the 6th grade academic group in the school year 2018-19 under an album entitled 6th grade retreat.
Be aware that in some instances, there might already be an album created in your grade level. Simply add photos to that album. Also be aware that there are categories involving our student's activities in the arts and athletics. We invite you to upload photos there too!
JPG, JPEG, PNG
Images Smaller than 10000×10000 pixels
Images larger than 100×100 pixels
Images smaller than 20mb
Images larger than 10kb
Vidigami's Photo Uploader has been optimized for use with Google Chrome and Safari browsers. Listed below are the supported browser details:
Chrome: Latest version recommended
Safari: 7 or greater
Firefox: 37 or greater
Internet Explorer: 10 or greater
Vidigami securely stores and backs up photos in the cloud using Amazon Web Services (AWS) as its infrastructure service provider.
You can download the Vidigami Application form the App store or the Google Play store. Simply Search for Vidigami.