Important Information for Upper School Students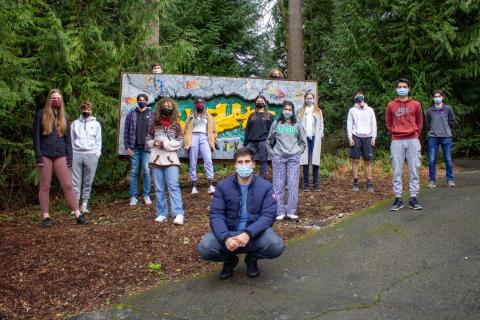 We will continue to utilize our COVID Protocols, at all times (Masked, distanced, and washing hands frequently). Check the document for further details.  
Our goal is not to introduce too many new systems. As each takes time to learn, evaluate, and refine. 
Check-in – Begins at 7:40 am, in the Lower Lot. Drop-off and Pick up are there. 
· Check-in is required to be on-campus each day. 
· Clarification from Feb's Town Hall – 
If you plan on attending during the academic day, the only check-in time is during the 7:40-8:10 am period, at the designated location for your grade. 
Multi-grade households must pick ONE location and remain consistent with it each day. It is preferred that households default to their oldest student's location. 
Note – Given that there are check-in locations for specific grades throughout campus, you are likely to lose ~30min trying to go to another location AND will be directed back to your drop-off spot by the check-in staff at these locations. 
Classes – All in-person (Hybrid) students should follow their Canvas/Veracross schedule for the location of their class; whether the teacher is also in-person or teaching virtually. 
Advising - In assigned homeroom spaces. Simply follow your Canvas/Veracross schedule. 
· All locations have been re-verified (02/16/2021) by the Health & Safety team. 
· A focus will be on in-person interaction 
· We will remain mindful that some members of our community will elect to remain virtual, so a regular meeting should remain available. 
· Advisor discretion on the schedule for their homies – virtual and in-person. Be consistent! 
Clubs – (Students) Go to your assigned homeroom location and connect virtually. (Advising system) 
· There will be different activities/clubs being actively engaged in at the same location, so ensure that you have earphones (with a microphone – preferred). 
Lunch – 3 indoor locations that will be assigned to students. 
· Lunch will be a pre-order system. Details are forthcoming, by email, to students, staff, and families. 
Begins on March 1st. Students in grades 5, 6, & 9 should bring lunch with them for the week of Feb 22nd. 
· Clarifications from Feb's Town Hall – 
Indoor eating is limited to the student's assigned location. Students may elect to take their food to an outdoor location (or their car). 
Campus is closed. Students may not leave for lunch and then return (See check-in note above). However, they may order lunch to be delivered to campus. Delivery Drivers must remain in cars, so students choosing this option, must meet the drivers at a drop-off location. 
Note – For the first week of the ordering system, it is advised that individuals also plan to bring lunch (and eat in your assigned location) as we work through the ordering system. You will be allowed to use it from the March 1st launch, AND we also want to ensure that you will still have sustenance for the academic day. 
Free Periods – Three indoor locations students can select from: 
· Library 
· Student Center 
· Atrium and study rooms/wings in the new Math & Science center. 
It is limited to the available seats that are in the building. If there is no seat, you need to go to another location. Shared seats, like couches and benches are limited to one-person. 
· Students may also elect to go to outdoor spaces. 
Eating that occurs beyond the designated lunch period & location MUST be done outside. 
Office Hours – Either: 
1. Your instructor is on-campus, and you can go to their classroom 
2. Your teacher is virtual, and you will connect from the Library, Student Center, or the M&S Atrium (Free Period system) 
3. You can also go to your homeroom, but only if your advisor is not holding an unrelated Office Hour there (Advising & Clubs system) 
Hard Stop to the day – (3:00 or 3:30 pm) 
· If you are not attending office hours or sports, you must go home. 
· Students with a free period (including ZERO period) at the end of the academic day are encouraged to depart campus when that period begins to reduce the COVID transmission risk; however, once you have left campus, you may not return that day 
· Students should have a good reason to stay on campus, if their last period is a free – 
Waiting for sibling 
Parent is at work and cannot pick-up until the designated pick-up time 
Sports/Athletics – Will have their own New Screening each afternoon, even for those individuals previously screened and already on campus. 
· Students that have an athletic practice, that are already on-campus, should treat the time between the end of school and the screenings before practice as a "Free Period," and go to any of those three locations.